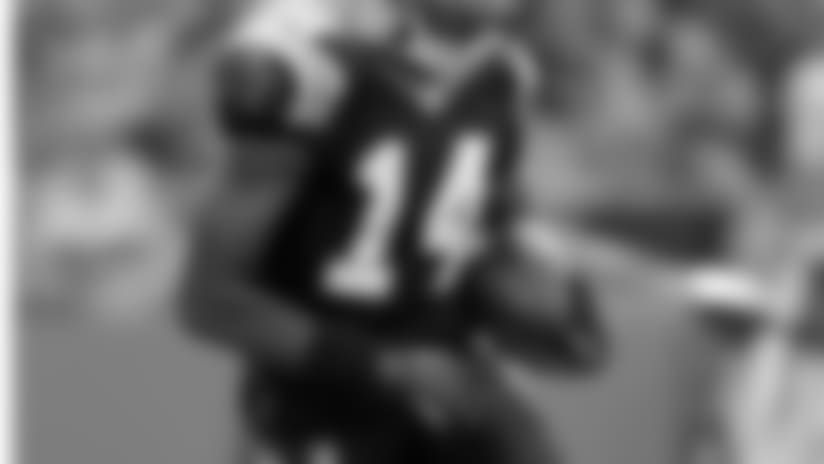 I know a lot of people call Armanti Edwards a draft bust, but do you believe that he has gotten a good enough chance to prove himself as an offensive weapon? – Christian in Boone, N.C.**
A third-round pick in 2010 out of Appalachian State, Edwards is slowly getting more opportunities. It's been slow because, as someone from Boone certainly would know, Edwards was a standout quarterback for the Mountaineers but had no experience at receiver when he entered the NFL.
Edwards basically watched on game day while working feverishly on his position change as a rookie. Last year he was entrusted with punt return duties. Of late, he's gotten his most extended time at receiver and returned kickoffs last week versus Denver.
Edwards has catches in consecutive games, and he could get more chances to return kicks with the special teams units aiming for a more aggressive approach.
---
Why hasn't Cam Newton been benched even once during the season? Why not give Derek Anderson a chance? Especially against the Broncos during garbage time when there was absolutely no way we could have won. – Andrew in Rock Hill, S.C.
Panthers head coach Ron Rivera said he thought about taking Newton out late in the Broncos game but then thought better of it. Newton, halfway through his second NFL season, is still a work in progress and can learn from every snap. He responded by leading the offense to a late touchdown.
Some fans have asked me if the Panthers should consider benching Newton for a game or two and turning to Anderson or Jimmy Clausen. I don't think that's the answer to the Panthers' offensive concerns. Newton is Carolina's quarterback of the present and future, and as such he benefits more from being on the field than from observing on the sideline.
---
Do you think we need to get back to a smashmouth power run game? – Kitrell in Earley, N.C.
Offensive coordinator Rob Chudzinski said Monday that above all else, the Panthers need to run the ball "with more consistency and effectiveness."
The Panthers have tried different approaches to the run game, from the zone-read option they featured early to a more traditional power approach of late.
They certainly have backs built for smashmouth football, but what about the offensive line? The group is missing Pro Bowl center Ryan Kalil, has a rookie left guard in Amini Silatolu, and is in transition at right guard with Geoff Hangartner moving to center.
The Panthers rushed for a franchise-low 10 yards in a season-opening loss at Tampa Bay, and now the Buccaneers visit Bank of America Stadium. Whatever the chosen formula, the Panthers need balance on offense to keep the Buccaneers' hard-charging defense off-balance.
---
How is Greg Olsen's baby doing after his surgery? – Cyndee in Jonesboro, Ga.
I'm happy to report that T.J. went home Nov. 6, four weeks to the day after his birth. While his twin sister, Talbot, was born without complications and headed home shortly after birth, T.J. remained at Levine Children's Hospital for treatment of hypoplastic left heart syndrome. He underwent a scary but successful surgery two days after his birth, then remained in the hospital until he was strong enough to go home.
---
Why is a field goal attempt measured from the kick point, while a punt is measured from the line of scrimmage? – Jerry in Rock Hill, S.C.
Field goals are scoring plays behind the line of scrimmage that lend themselves to accurate calculation of their distance. Punts, on the other hand, are important relative to the line of scrimmage and are thus measured from there. It's the same deal with a pass play: The quarterback isn't credited with six extra passing yards if he throws a pass from six yards behind the line of scrimmage.
Your question reminds me of a funny story from my newspaper days. I heard tell of a Division II punter who was on pace to shatter all sorts of national records – until it was discovered that the sports information department had been calculating punts from the spot he kicked them.
---
Rumors that Panthers could come to L.A. - true or false? – Kristie in Los Angeles
I've gotten this question several times over the last couple of weeks, but this is the first time it's come from someone in football-starved Los Angeles. Though I'm sure you're counting the days until the NFL returns to your neck of the woods, Panthers fans got reassurance Sunday of what they already should have known.
"It has always been my desire that the Carolinas would be the home of our Panthers. Nothing has changed," Panthers Owner/Founder Jerry Richardson said in a statement. "As someone who was born in North Carolina and lived much of my life in South Carolina, I hope that there would be no doubts about my personal devotion to the Carolinas."