Jameis Winston's head coach is pleased with his production, and the third-year quarterback's numbers are as good as any in the league.
Well, not the numbers that matter the most.
"If you look at the numbers, our production is fine, but this game is not about production," Buccaneers head coach Dirk Koetter said. "This game is about getting one more point than your opponent, and in that respect we're all disappointed.
"Leading in passing? Leading in rushing? You want to lead in wins."
Mainly on Winston's back – though Ryan Fitzpatrick racked up some numbers in Week 6 when Winston exited with a shoulder injury – the Buccaneers lead the NFL with 312 passing yards per game. Their win-loss record, however, is 2-4, alone in the cellar of the NFC South heading into their first division game of the season Sunday against the Panthers.
"We've been in a lot of situations where we've had to battle back, so that can boost up the passing yards and opportunities to pass," Winston said. "Everyone in our receiver room, our tight end room and our running back room, we have a lot of talent in every facet of our offense. We just have to execute."
Koetter, who was Winston's offensive coordinator his rookie year and is now in his second season as his head coach, said Winston has significantly progressed as a pro quarterback this season.
"If you look at Jameis compared to his previous two seasons, he's having a nice season. Probably had one of his better games last week," Koetter said. "That second half, Jameis was on fire."
Problem is, he caught fire after the Buccaneers fell behind the Bills 17-6. Kind of like how Fitzpatrick caught fire after Tampa Bay fell behind the Cardinals 31-0 the previous week.
"We've just got to get things fixed up and execute efficiently and protect the football," Winston said. "We're a tough team to stop when we're doing that."
Winston has been around long enough to know he's facing a tough team to get going against, and his numbers against the Panthers exemplify how passing numbers aren't the bottom line.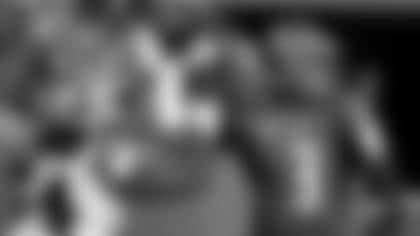 As a rookie, Winston slung it around to the tune of 612 total passing yards against the Panthers, but Tampa Bay lost the two meetings by a combined 42 points. Last season, he threw for 421 yards against Carolina, but the Buccaneers won both meetings by narrow margins.
Both seasons, Winston threw two touchdown passes against the Panthers. But he threw six interceptions as a rookie versus one last year.
"We have to bring our A game every single time we play this team," Winston said. "They're one of the best defenses in the league and have great leaders on that side of the ball. They have fierce competitors on every level. They're exciting to prepare for and definitely exciting to play."
Winston also knows the Panthers fairly well on a personal level. He considers Panthers quarterback Cam Newton a friend, and he's very close to Newton target Kelvin Benjamin, who was Winston's top target during Florida State's march to the national championship in 2013.
If that's not enough, here's the kicker: Practice squad addition Roberto Aguayo kicked field goals for Winston's offense in college and in Tampa, and Winston even gave an unsolicited shout-out on Wednesday's conference call to Panthers starting kicker Graham Gano – a Florida State alum before Winston's time.
Those ties are nice, but Winston's focus right now is on wins.
"Obviously we've got to play some tough teams, starting with the Carolina Panthers," Winston said. "Every game is important from here to out with our team. I believe we have a great chance to wake up and start winning some football games. It's all in our hands. We definitely control it."