CHARLOTTE – The Panthers wrapped up a successful first week of organized team activities Thursday, but it's only the beginning.
"We'll get there," Panthers tight end Greg Olsen said. "You start from scratch every year with installs, and you have to teach new guys and get them up to speed.
"But the future looks pretty good."
The Panthers have three weeks remaining in their nine-week offseason workout program, after which point they'll break for about six weeks before training camp begins. The program will continue with OTAs the next two weeks and conclude with a mandatory veteran minicamp the next week, but the Panthers already are getting just as much benefit from the voluntary portion.
"This is voluntary, so I appreciate the fact that we've had every player here," Panthers head coach Ron Rivera said. "This has been a very good three days for us. The guys have come out and worked hard, doing exactly what we've asked.
"The biggest thing we're doing as a coaching staff is watching the development of our players. We have an install program that we're following to make sure we're able to touch all aspects of our offense, defense and special teams. Then we're watching our players develop within those schemes, making sure we are getting the right guys on the field and that everybody is getting the reps they need to develop and to show us that they're ready to play football."
Not everyone was able to fully participate in the first week of OTAs, though tight end Brandon Williams (knee) was the only one not at least somewhat involved Thursday. Three players rehabbing from surgeries – linebacker Jon Beason, left tackle Jordan Gross and center Ryan Kalil – took part in conditioning and installation periods but didn't take part in offense vs. defense drills, and right tackle Byron Bell got a veteran day of rest. Running back Jonathan Stewart (ankle), cornerback Captain Munnerlyn (strained abdominal) and wide receiver Lamont Bryant (hamstring) worked out on the side.
HARDY IN MIDSEASON FORM: Defensive end Greg Hardy, coming off a career year, certainly didn't take the day off. Rivera, in fact, has had to convince Hardy to take some plays off.
"I've had to ask him to tone it down for the sake of guys not getting hurt out here," Rivera said. "He's been outstanding. It's been a lot of fun watching him."
As is typical, Hardy had fun with the media gathered Thursday, telling reporters that he's "the best that ever lived. If I'm not, I'll be here tomorrow and Monday, fixing that problem."
Hardy, who had 11 sacks last season, is entering the final year of his four-year rookie contract, but he said that's far from his focus.
"I want to make sure there's nobody in the world that can stop me. I'm not worried about money. I'm not worried about any of that," Hardy said. "I'm going to get tackles and get sacks, and I'm going to get better. I'm just going to keep adding on.
"I'm not too far from the top of the league right now. I talk a lot of trash, so I'm trying to make sure I step my game up from where it was and try not to make as many mistakes. I'm just trying to do the best I can."
CATCHING UP WITH THE RECEIVERS: The seemingly annual dissection of Panthers wide receivers not named Steve Smith is already under way, and Rivera likes what he's seen so far.
"There's a lot of competition at that position," he said. "Right now Brandon LaFell is our number two, and we've got a couple of guys that have shown very well since they've gotten here. I'm thrilled with (Domenik) Hixon and (Ted) Ginn. Those are veteran guys, explosive players that have had success.
"There's also a group of young guys that have done some really good things. Kealoha Pilares has done a nice job, as has Armanti Edwards. You also can't pass over David Gettis, who has done some nice things over the last couple of days. He's shown up every day, and that's what we need."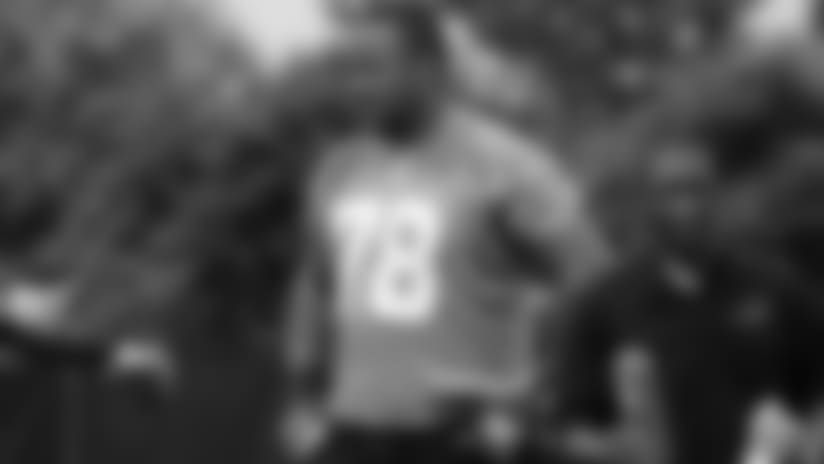 CHANDLER'S CHANGE: The offense has another player on its side in Nate Chandler, who has moved from defensive tackle to offensive tackle.
Position changes are nothing new for the second-year pro, who actually lined up at defensive end last year and who started games in college at defensive end, defensive tackle and tight end in addition to seeing playing time at offensive tackle.
"When we were looking at him last year, I called the people at UCLA, and they said the moved him to the defensive line out of necessity, not because he couldn't play offensive line," Rivera said. "Last year when we needed someone because of all our injuries, he was our emergency offensive tackle.
"All offseason, Coach (John) Matsko and Coach (Ray) Brown kept talking about him, and after we drafted a couple of defensive tackles, we realized this could be a great opportunity for the young man. He struggled a little bit today, but he's an athletic guy and is very powerful."