The Carolina Panthers open the preseason Friday night with their traditional white jerseys-white pants look versus the Buffalo Bills at Bank of America Stadium.
Carolina will open the regular season in its alternate blue jerseys at the Tampa Bay Buccaneers on September 7.
The Panthers will break out their black jerseys for the final five home games of the year, but when or if they'll be paired with black pants as opposed to the traditional black-and-silver look is to be determined.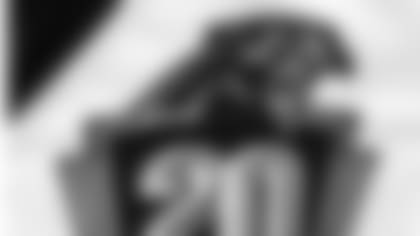 "For our main uniform, we'll always go blue jerseys and black jerseys with silver pants and black socks, or white jerseys with white pants and blue socks," equipment manager Jackie Miles said. "That combination will never change unless Mr. (Jerry) Richardson approves it, and he likes to stay with the classic look."
On occasion, however, Miles might run the idea of pairing black pants and blue socks with the black jerseys. The Panthers wore black pants for the first time in 2012 and did so three times last year - once each in the preseason, regular season and postseason.
"Every once in a while when we're wearing black, I'll go to (team president) Danny Morrison and discuss it with him and Coach (Ron Rivera), and then Danny will ask Mr. Richardson," Miles said of the possibility of wearing black pants. "Me and Danny have discussed that we don't want them to be 'big-game' pants – we just want them to be something random for the players and the fans."
One thing that every jersey color will feature this season is the Panthers' commemorative 20th season patch.
"The patches look good," Miles said. "I just got the jerseys in, and they look really nice. I've been here for all 20 of them, so it has sentimental value."
In regular season games, the Panthers are 84-95 all-time in white jerseys, 49-53 in black jerseys and 11-12 in blue jerseys.
2014 PRESEASON JERSEY COLORS

DAY
DATE
OPPONENT
LOCATION
TIME
COLOR
Fri.
Aug. 8

vs. Buffalo Bills
Bank of America Stadium
7:30 p.m.
White
Sun.
Aug. 17
vs. Kansas City Chiefs
Bank of America Stadium
8:00 p.m.
White
Fri.
Aug. 22
at New England Patriots
Gillette Stadium
7:30 p.m.
Black
Thu.
Aug. 28
at Pittsburgh Steelers
Heinz Field
7:30 p.m.
White

2014 REGULAR SEASON JERSEY COLORS

DAY
DATE
OPPONENT
LOCATION
TIME
COLOR
Sun.
Sept. 7

at Tampa Bay Buccaneers
Raymond James Stadium
4:25 p.m.
Blue
Sun.
Sept. 14
vs. Detroit Lions
Bank of America Stadium
1:00 p.m.
White
Sun.
Sept. 21
vs. Pittsburgh Steelers

Bank of America Stadium
8:30 p.m.
Blue
Sun.
Sept. 28
at Baltimore Ravens

M&T Bank Stadium
1:00 p.m.
White
Sun.
Oct. 5

vs. Chicago Bears
Bank of America Stadium
1:00 p.m.
White
Sun.
Oct. 12

at Cincinnati Bengals
Paul Brown Stadium
1:00 p.m.
White
Sun.
Oct. 19

at Green Bay Packers

Lambeau Field

1:00 p.m.
White
Sun.
Oct. 26

vs. Seattle Seahawks

Bank of America Stadium
1:00 p.m.
Black
Thu.
Oct. 30
vs. New Orleans Saints

Bank of America Stadium
8:25 p.m.
Black
Mon.
Nov. 10
at Philadelphia Eagles
Lincoln Financial Field

8:25 p.m.
White
Sun.
Nov. 16

vs. Atlanta Falcons

Bank of America Stadium
1:00 p.m.
Black
Sun.
Nov. 30

at Minnesota Vikings
TCF Bank Stadium
1:00 p.m.
White
Sun.
Dec. 7

at New Orleans Saints
Mercedes-Benz Superdome
1:00 p.m.
White
Sun.
Dec. 14
vs. Tampa Bay Buccaneers
Bank of America Stadium
1:00 p.m.
Black
Sun.
Dec. 21
vs. Cleveland Browns
Bank of America Stadium
1:00 p.m.
Black
Sun.
Dec. 28
at Atlanta Falcons
Georgia Dome
1:00 p.m.
White