CHARLOTTE – He's one of the greatest quarterbacks of all time, and one of his greatest attributes doesn't even require the ball to be in his hands.
Broncos quarterback Peyton Manning is the NFL's master manipulator at the line of scrimmage.
"He's got all the checks, he's got all the motions, he can get everything lined up and he knows all the coverages," linebacker Luke Kuechly said. "That's part of his game. That's who Peyton is."
In the minds of the Panthers, Manning is a Hall of Famer at the top of his game. They pay no attention to any talk about the strength of the 39-year-old's arm following neck surgery.
"He's still got it," Kuechly said. "When you have surgeries like that everyone is going to try to discredit you, but he's still Peyton. He's still got all the throws.
"I don't care what anyone says. He's still extremely intelligent, and he can put the ball where it needs to be. He's been great his whole career, and he's still great now."
This is Manning's fourth Super Bowl appearance. He's still finding ways to get it done, largely due to his ability to outsmart the opposition.
"You see the same guy. He's the consummate pro," head coach Ron Rivera said. "He's going to know you, and he's going to understand how to attack you. He's a very smart, bright football player.
"He wants to undress the defense as quick as possible and get a feel for where they're going. It's really a great chess match. It's quarterback against defense."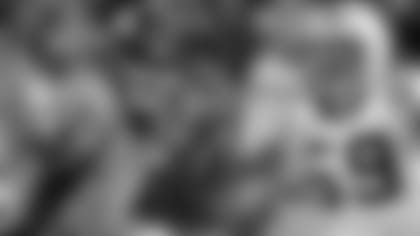 Kuechly, the quarterback of Carolina's defense who makes the film room his home away from home, is known for alert pre-snap reads of his own. And he has great respect for Manning's football IQ.
"There are certain defenses where we have checks, maybe it's a formation or a coverage," Kuechly explained. "There isn't a lot of back and forth because you don't know what he's checking or what he's doing. Maybe he's checking nothing?
"With him, you think you're onto something and then you find something that discredits it. Maybe one time he's saying this word and I've seen it two or three times and it's right, it's right, it's right – then the fourth time it's wrong. Well, that's done now."
Rivera has played this game before as a coach. He was the defensive coordinator for the Bears when they lost to Manning's Colts in Super Bowl XLI.
Like the rest of us, Rivera would love to know how often Manning actually changes something at the line.
"I told him one time, 'I hope you write a book and tell us all the truth,'" Rivera said.
In the meantime, the Panthers must focus on executing their plan in Super Bowl 50. They can't get caught up in Manning's madness.
"You just have to line up and play," Kuechly said.