CHARLOTTE – When general manager Dave Gettleman and the Panthers placed the franchise tag on cornerback Josh Norman on the first day of March, they were comfortable with the plan.
But as long-term negotiations continued without signs of progress, things changed.
"You need 53 guys – bottom line. The more we thought about it, the more flexibility that 14 million dollars would give us – we just kept talking and talking," Gettleman said at his pre-draft press conference. "And I have a great belief that in order to get to the right answer, you have to ask the right questions. We kept asking ourselves that question."
Did the Panthers prefer Norman on the tag in 2016 or the financial flexibility that came with that pricey figure coming off the books?
Obviously, the Panthers opted for flexibility.
Both Gettleman and head coach Ron Rivera were asked if an impending holdout had an impact on this decision. They both said it did not.
But make no mistake, unity is considered critical in Carolina.
"One of the things about last year, our culture was terrific down there," Gettleman said. "Everybody was all-in. And we want people that are all-in."
Business decisions like this one are challenging.
Norman, a former fifth-round draft choice from Coastal Carolina, battled through his fair share of growing pains as a young player and developed into an All-Pro corner in 2015.
Rivera, defensive coordinator Sean McDermott, secondary coach Steve Wilks, assistant defensive backs Curtis Fuller – all of them worked to help Norman reach that potential.
It's not easy to send him on his way after the best year of his career.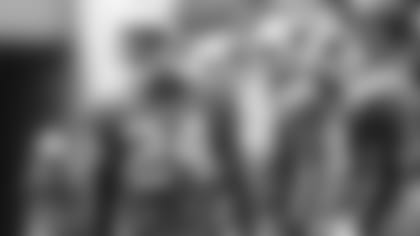 "Dave has had to make a couple tough decisions that have proven to be the best as we've gone forward," Rivera said. "Quite honestly, I am going to trust him on this one."
Said Gettleman: "I struggle with our coaches working their fannies off developing players and letting them walk. I don't like that. The (salary) cap can be a great equalizer, and I really believe that it penalizes teams that draft well. You can't keep everybody – it's impossible. Now you have to decide who you are going to allow to graduate."
Gettleman has made clear that he prioritizes big men on the line of scrimmage.
"I'm a firm believer in it," Gettleman said. "It makes people in the back end better. Trust me, it does. I've seen the value of big-time fronts."
With Pro Bowl defensive tackle Kawann Short and former first-round defensive tackle Star Lotulelei nearing free agency, financial flexibility is beneficial.
As for the cornerback position, Gettleman and Rivera still have time to shape the group, which is now without both starters (Norman and Charles Tillman) from last season.
"We've got a number of guys. We are waiting for Bene (Benwikere) to get back healthy and ready to roll again," Rivera said. "We'll see what happens with the draft and the rest of free agency. It does create a little bit of a hole, but it's our job as coaches to find that next guy and get him ready to play."
Added Gettleman: "This time of year is roster building season. There are still things that happen, there are still players that become available. We don't play until September 8. And as I've said a number of times, sometimes the answer is on your roster."