In the past, if a team won the coin toss, most teams would elect to receive. What is the strategy behind deferring to the second half? – Cristian in Long Beach, Calif.
In the simplest of terms, teams defer so they can set the tone with their defense to start the game and get the ball to start the second half. To say it's worked well for the Panthers this season would be an understatement.
After somehow losing the coin toss in their first 12 games last season, the Panthers have won nine of 11 tosses so far this season. The first time they won it, in Week 2 at Buffalo, they elected to receive. Their opening drive ended with an interception, and Buffalo's drive to begin the second half resulted in a field goal.
Since then, Carolina has deferred, with remarkable results. The eight times they've chosen to play defense first, they've forced punts four times and turnovers three times. The San Francisco 49ers were the lone opponent to produce any points, opening with a field goal, while the Panthers have followed their opening defensive stands by scoring points on their first offensive possession four times. On five of eight occasions, the Panthers have scored on their drive to open the second half.
I feel very strongly as if Steve Smith is to some degree one of the most underrated professional football players of all time. What's your take? – Carl in Columbia, S.C.
The first thing I'll say is that Smith is still building his legacy, still compiling credentials. Sunday at Miami, he became the 22nd player in NFL history to amass 12,000 receiving yards. The yards don't come any bigger than the 19 he picked up on fourth-and-10 on what proved to be the game-winning touchdown drive.
Is Smith underrated? Nationally perhaps, though he has played in five Pro Bowls. Locally, I don't believe he's underrated. And on the most local of levels – in the Panthers locker room – he's appreciated and revered.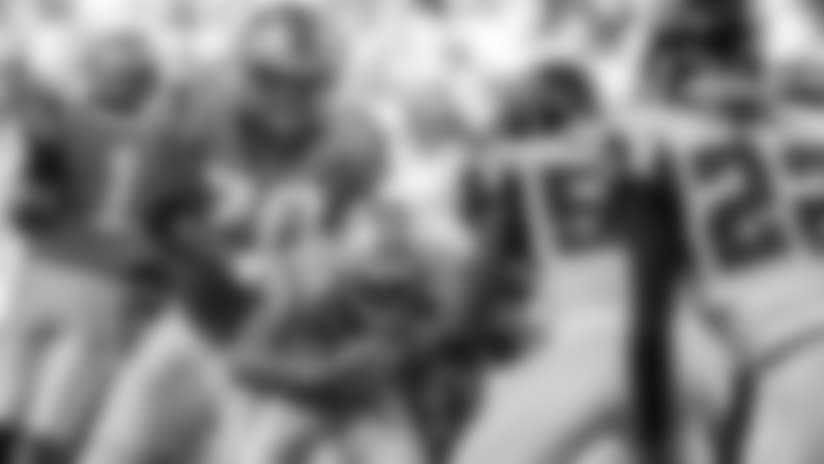 It seems that the release of Travelle Wharton after the great rookie year of Cam Newton had a real impact on the 2012 season. It seemed to me to be a terrible decision at the time. – Ken in Charlotte
Former general manager Marty Hurney called it "an extremely difficult decision" when the Panthers released Wharton in 2012 but one that needed to be made for the sake of the big picture. Football is a business, and at times the NFL salary cap forces teams to make moves they would rather not make.
Now Wharton, who spent last season on injured reserve with the Cincinnati Bengals, is back and is making a positive impact at left guard. A third-round draft pick by the Panthers from South Carolina in 2004, Wharton has helped get younger players like Nate Chandler and Chris Scott up to speed while showing that he still has more than a little something left in the tank.
I'm curious to know what Drayton Florence is saying in the postgame locker room speech. I've noticed he says it after every game it seems like. – Jonathan in Gastonia, N.C.
"Let me get two claps and a Nature Boy!" followed by a collective "Wooooo!"
Florence breaks down the team gathering with two claps, then the players pay homage to wrestling legend "Nature Boy" Ric Flair, who calls Charlotte home and is actually neighbors with a Panther player.
"It started after the third game," Florence said. "The DBs had been doing it all week in practice. It started spreading like wildfire. Everybody loved it. Even the coaches have chimed in on it a little bit. As long as we keep winning, we are going to keep at it."
Bryan, this is not a question but a heartfelt thank you to the Carolina Panthers for their support of our military and their families. As the mother of a U.S. Marine, this is something that is very special to me. My son worked with the Wounded Warrior Program at Camp Lejeune, and I know firsthand what an important program this is. – Charlene in Charlotte
Thank you for the kind words, and thanks for the kindness that Panthers fans showed during the team's Salute to Service game against the New England Patriots. The second annual Military Support Stadium Collection raised nearly $13,000 for the United Service Organizations of North Carolina, which helps meet the needs of 333,000 troops and their families annually.