CHARLOTTE – After one half of play, the Panthers and Texans were tied at 13.
In the second half, the two teams were far from even.
Houston outscored Carolina 13-0 after halftime, outgaining the Panthers 213-13 in total yards to claim a 26-13 victory at Bank of America Stadium.
"As the game got away from us a little bit in the second half, I was truly disappointed to be very honest with you," head coach Ron Rivera said. "I expected some other guys to step up and make plays, and some guys didn't. That's disappointing.
"We'll get better as a football team, and those guys will understand what it takes to be on this football team, as far as I'm concerned."
The players got the message. And they were in total agreement with their head coach's assessment of the first preseason game.
"He wasn't happy. You could see why," quarterback Cam Newton said. "The effort out there, it just wasn't good enough."
Newton completed three series with the first-team offense, finishing 2-of-6 for 17 yards through the air and 16 yards rushing on two attempts.
Their final series was set up by a takeaway from the defense, as rookie linebacker Luke Kuechly chased down Texans running back Arian Foster and stripped the ball.
"He didn't see me coming, and I was able to get a good knock on the ball," Kuechly said. "Luckily we were able to jump on it."
Eight plays later, the offense put Olindo Mare in position to convert a 33-yard field goal.
"If you look at what happened in the first quarter with the first bunch, there are some positives," Rivera said. "We moved the ball, and we did some good things."
Newton expected better, starting with the team's energy level.
"I felt like, myself included, it was lethargic," Newton said.
The quarterback was particularly upset with the second offensive series of the game, when a sack kept him from connecting with a wide-open Steve Smith. Newton was nearly sacked on the next play but managed to gain one yard before going down.
"I can't take sacks," Newton said. "I have to get the ball out."
When Newton and the first team offense were told their night was over after their third possession, the game was tied 3-3.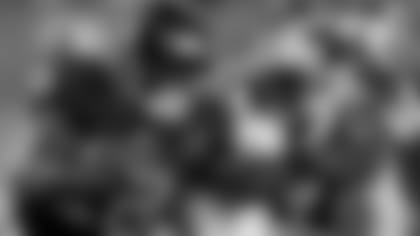 But Trindon Holliday's 90-yard kick return for a touchdown following Mare's field goal quickly put the Texans back in front.
"It all starts with the kickoff being short first and foremost," Rivera said, "and then our inability to get off of blocks and separate."
The Panthers later converted an interception by Jason Phillips into three points, courtesy of a 48-yard field goal from Justin Medlock.
The Texans answered with three of their own, but then Panthers quarterback Derek Anderson led an eight-play, 83-yard scoring drive to tie the game at 13.
Wideout Louis Murphy hauled in two catches for 42 yards to move the Panthers downfield, and running back Tauren Poole eventually charged his way into the end zone for a 1-yard touchdown with just under a minute to go before halftime.
From there, Houston controlled the game.
After a 37-yard field goal from Shayne Graham, running back Jonathan Grimes rushed for a 3-yard score to give the Texans a 23-13 advantage. Reggie Bullock added a 52-yard field goal following the two-minute warning to further extend the lead.
The Panthers will have a chance for redemption on their home field next Saturday when they host the Miami Dolphins, eager to make amends for a disappointing showing to open the exhibition schedule.
"We have no choice but to respond," Newton said.