CHARLOTTE - Panthers players and coaches can't wait to catch their breath after wrapping up a fruitful nine-week offseason program Thursday with their final minicamp practice, but they also got a reminder of why they put in all the work.
"It's a great turnout for lunchtime on a Thursday. We really appreciate them all coming out," Panthers right guard Geoff Hangartner said, his eyes scanning a crowd estimated at 5,500 that filled the east end zone of Bank of America Stadium. "It was fun. It was a nice day that had a little excitement."
The Panthers are excited about the season to come, with the preseason opener now less than two months away. Their fans clearly are excited as well.
"They came out and did their part. Now we have to do our part," Panthers head coach Ron Rivera said. "We've got to go out and win football games because the more football games we win, the more support we'll get from our community. It's on us.
"What we're trying to do is create a sense of, 'This is our place. This is our field, this is our stadium, and these are our fans.' It was obvious by a turnout that exceeded my expectations by a lot that our fans have a great expectation for us."
Hangartner helped set the tone early for a crisp offseason capper that fed off the crowd. The 297-pounder made an athletic touchdown catch in traffic, reaching above his head for a pass lofted by holder Nick Harris on a fake field goal.
Hangartner then tossed the ball into the teeth of the crowd, the first of 10 balls that would end up in the stands over the course of the two-hour practice.
"A lot of people around the league might think that we wouldn't run a fake with No. 63 out there in an eligible position, but as we showed today, that is not true," Hangartner said. "If it was game, I probably wouldn't have thrown it into the stands. I would have kept that ball. But seeing as it was a practice and all these fans came out to watch us on a Thursday afternoon, I figured I'd throw it into the crowd."
The offense, as usually is the case in such settings, got the majority of the loud cheers, but the defense performed well and managed to steal the spotlight for a moment. Linebacker Luke Kuechly – the Panthers' 2012 first-round draft choice – picked off a Jimmy Clausen pass and returned it for a touchdown despite quarterback Cam Newton's last-ditch effort to join the play and give chase.
"The big boy will come and get you," said Kuechly, who credited safety Jordan Pugh with a read that set up him up for the interception. "That's a big quarterback. You usually don't them that big."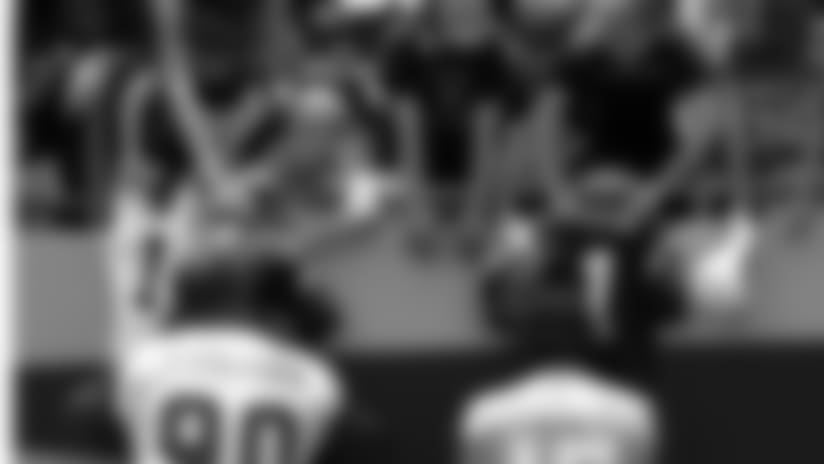 Newton, who played to the crowd whenever possible and signed autographs afterwards along with many of his teammates, said Thursday's practice and all the ones before it were big, especially after the Panthers had no such preparation last summer because of the NFL's work stoppage.
"This part helps a lot," Newton said. "Minicamp and OTAs are something I didn't have last year. I feel like if I had had it, I would have been far advanced from where I was.
"Having this time with coaches and players is something you can't get from just working out every single day. Hopefully it shows come game time."
The offense still enjoyed a breakout season despite the slow start, but the defense struggled after injuries hit hard early. Linebacker Jon Beason, who increased his participation during minicamp coming off an Achilles injury, feels much different about the defense this June than last.
"Teams that already had their head coach, scheme and quarterback in place, the time off didn't really hurt them," Beason said. "That's versus us, where it was kind of like, 'Hey coach. How you doing? What's your name? What's the scheme?' And it's July 27.
"We were at a huge disadvantage, but there is carryover now with the scheme and knowing the guy next to you."
While Beason said he'd work doubly hard to catch up to the other linebackers between now and the start of training camp in late July, others are planning a mix of work and play. Rivera will travel to France later this month, Hangartner is getting married in less than three weeks, and wide receiver Kealoha Pilares is heading to the vacation destination of Hawaii – which just happens to be his home state.
"I'll relax, but I'll keep working out too, keep running," Pilares said. "I just want get away for a little while."
For a little while, yes, but not for long.
"We told everybody to come back ready to go," Rivera said. "We've by no means arrived at where we want to be. I'm really looking forward to us getting back and getting ready for training camp and going forward from there."