A successful fantasy football enthusiast drafts with his head rather than his heart.
It's a nice bonus when your head and your heart meet at the same place.
You can win your fantasy football league with a wisely chosen Carolina Panther on your roster, but you're less likely to win if you draft a Panther too early just to make sure you snag one.
In preparation for your draft, here's a look at the top Panthers prospect at each position and some thoughts on their value.
QB Cam Newton: Newton's current average draft position (ADP) on NFL.com is 85th overall, and on average he's the 12th quarterback drafted. He finished 17th among quarterbacks in scoring last season but while he missed two games due to injury, the 16 quarterbacks ahead of him missed a total of two games. Among the top 17 quarterbacks, Newton ranked seventh in points per game. Each of his first three years in the NFL, he ranked third or fourth in total points.
Newton is healthy, and the Panthers want to keep him that way so he could finish closer to the five rushing touchdowns he scored last year than to the 9.3 he averaged his first three NFL seasons. The loss of wide receiver Kelvin Benjamin could also hurt his numbers.
I'd like to have Newton as my fantasy quarterback and see no reason why he won't be top 10 again this season. But if you don't draft Andrew Luck or Aaron Rodgers early, wait on picking your quarterback and hope Newton falls to you at a reasonable spot. He's a bona fide bargain if you get him as the 12th quarterback selected.
RB Jonathan Stewart: Stewart was an elite running back over the final five games last season and would love to pick up where he left off. Given his fabulous finish and the departure of longtime running mate DeAngelo Williams, Stewart's stock is as a high as it's ever been. His ADP is 39th overall, and he's the 16th running back off the board.
In a 12-team league, I want to land my top two running backs from the group of 16 I have atop my position rankings, and Stewart is right on the cutline. I would absolutely love him as my No. 3 running back but would only make him my No. 2 if he fell into the fourth round.
WR Devin Funchess: I was very excited about the year that I believed Benjamin was going have, but his unfortunate injury muddles the value of Panthers wide receivers to say the least. Funchess is Carolina's top receiver in NFL.com drafts at a modest 57th (Benjamin, by the way, currently ranks 23rd because of all the drafts he was selected in before his injury).
I'm also very excited about what kind of year Funchess, a rookie out of Michigan, can have, but so much is up in the air. He's battled a hamstring injury for three weeks now, cutting down on practice time he desperately needs. That being said, Funchess is a guy I'd gladly take a shot on but only late in my draft as a flier with significant upside.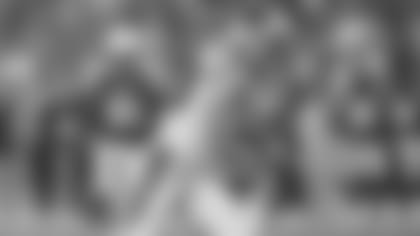 TE Greg Olsen: This is a guy to potentially target with your fifth-round pick in 12-team leagues, which also lines up with his ADP of 52. Olsen is the third tight end off the board on average, a sensible spot given that he finished fourth in scoring last year. Antonio Gates – who must serve a four-game suspension – and Jimmy Graham, now with a more conservative offense in Seattle, edged him out.
If I don't get Rob Gronkowski, Graham or Olsen, I'm waiting until very late to draft a tight end. Resist the urge to pick Olsen too early because the majority of the teams in your league will also be waiting to pick a tight end and will pass you by at running back and receiver if you overdraft a tight end.
K Graham Gano: Gano is certainly better than the 21st-best kicker in the NFL, but I can understand why he's 21st among kickers in ADP (though he did finish 15th in scoring each of the last two seasons). Given his accuracy and leg strength, Gano could easily emerge as a kicker worthy of starting in 12-team leagues, but opportunities for kickers are so unpredictable.
So I say if you're a Gano fan (who isn't?), pick him at the very end of your draft. Or, if you plan to play matchups rather than stick with one kicker, grab Gano for favorable ones. Week 1 at Jacksonville could fit the bill.
Panthers Defense: There's an element of randomness to defensive scoring as well, meaning that great football defenses aren't automatically great fantasy defenses. Carolina produced a top-10 defense three years running but finished 20th in fantasy points twice in that span.
Even so, Carolina's defense is a definite bargain as the 16th unit selected on average. I'd target the Panthers after about half of your league has picked a defense, but don't be surprised if someone else has the same idea. Don't sweat it if that happens because – sorry, Luke Kuechly – defenses don't win fantasy championships. Now, Kuechly as a selection in Independent Defensive Player leagues? That's a different story.
---
I asked fans to share their "Panthers-themed" fantasy football team names with me on twitter. Here are some of my favorites: