In his family's fantasy football league, kicker Graham Gano could always count on being drafted.
"It was always a fight within the family for who got to draft me," Gano said. "But it was normally an unwritten rule that it was my wife."
If Mrs. Gano still has dibs this season, it could be an unfair advantage – one she apparently doesn't need.
"I'll try to help my wife's team," said Gano, who recently retired from playing fantasy football. "But she's a pretty good GM. Usually does better than I do."
Gano is considered a top-three fantasy kicker in many circles, one of four positions where the Panthers have potential top-three prospects. Here's a look at the Panthers' other most draft-worthy players and how to approach them on draft day.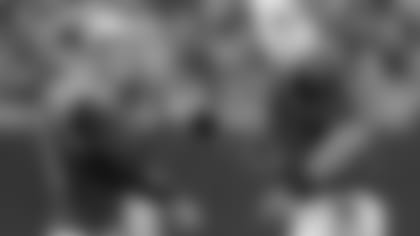 Cam Newton scored 45 more fantasy points than any player regardless of position in NFL.com standard leagues last season. He's the No. 1 quarterback prospect this year, but he's not the No. 1 overall prospect.
Here's why. In NFL.com leagues, where quarterbacks are king, the top 17 scorers in 2015 regardless of position were quarterbacks. But did anyone target Dolphins quarterback Ryan Tannehill (17th on the list) in the second round of their drafts? In four of the five seasons prior to 2015, the top quarterback and the No. 2 quarterback were separated by fewer than 10 points for the year, and that separation tends to stay small throughout the quarterback rankings.
Because of plenty of quarterbacks score enough points to support fantasy teams and because most leagues only require one starting quarterback, waiting to draft the position often makes sense. But if you do want Newton (and you know you do), don't overpay. Look to grab him late in the second round, ideally not until the third.
Here's a spot where a Panthers fan could get a steal.
Jonathan Stewart ranked 16th among running backs in NFL.com standard leagues in scoring last season, despite missing three games. He's the undisputed lead back on one of the league's best rushing teams, though his fantasy ceiling is lowered by the presence of Newton. His floor, however, is higher than many of the backs being considered alongside him, and he still could easily finish as a top-15 back that is sometimes being drafted outside of the top 20.
This is a tough one to predict.
Kelvin Benjamin sprang onto the scene as the 16th-best fantasy receiver as a rookie in 2014, and he could be just as good in his return from a knee injury this season. But the talent around him is better than it was two years ago. Would it be shocking if Devin Funchess has a better fantasy year than Benjamin?
Both could be viable fantasy starters, but what then about Ted Ginn, Jr.? He should again be on the field a lot, and responded to his extended role last season with 10 touchdowns. But touchdown totals are so hard to forecast for receivers, and Ginn probably won't get enough touches to be a fantasy starter without a similar scoring plays.
You can't get more rock-solid than Greg Olsen, who is trying to become the first tight end in NFL history to record three consecutive 1,000-yard seasons.
He's been fourth in fantasy points among tight ends for two consecutive seasons and was seventh in 2013, making him the lone tight end to finish seventh or better each of the past three seasons. He seems a safe bet for more of the same this season and should be a consideration as early as the fourth round but ideally around the fifth round of a 12-team league.
Again, it's hard to go wrong with the Panthers here, forecast by many fantasy experts to repeat as a top-five unit in 2015. Just keep in mind that defenses, just like kickers (sorry, Graham) should be selected at the tail-end of your draft. Carolina led the NFL in total takeaways and interceptions last season.