CHARLOTTE – Three weeks into the season, Carolina defensive ends Charles Johnson and Greg Hardy shared the same sack total.
"Everybody kept wondering what was wrong," head coach Ron Rivera said.
Rivera steadfastly believed there was nothing wrong, particularly with Johnson, the six-year veteran and primary playmaker on the Panthers' defensive line.
Johnson was applying pressure and disrupting plays in the first three games, but he had no sacks to show for it.
Then the Panthers traveled to Atlanta, and the sacks started to come.
Playing in his home state, Johnson racked up a team-record 3.5 sacks, and Hardy recorded his first of the season.
Including that Week 4 outburst against the Falcons, Johnson and Hardy have combined to total 14 sacks in the last five games -- Johnson with 7.5 and Hardy with 6.5.
The Panthers are the only team in the NFL with two players who each have at least 6.5 sacks and Carolina's eight percent sack rate on pass plays ranks second in the league.
"As our defensive line has grown," Rivera said, "our defense has gotten better."
---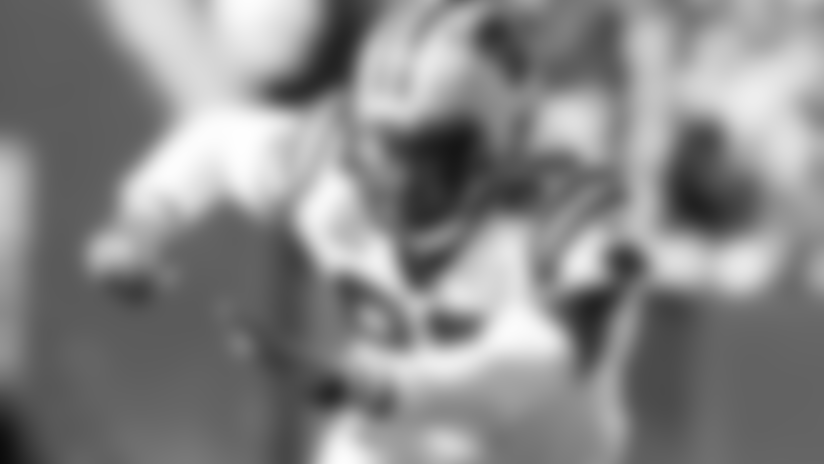 MATURATION PROCESS: Johnson and Hardy have both matured significantly, but they're at drastically different stages, both on and off the field.
Johnson, 26, is in his prime. He served as a rotational defensive end during his first three NFL seasons and became a full-time starter in 2010 – a season in which he led the Panthers with a career-high 11.5 sacks. He led the Panthers in sacks again in 2011 and he's on pace to do the same this season.
But Johnson is no longer just a leader statistically.
When middle linebacker and five-time team captain Jon Beason was placed on injured reserve prior to Week 8 at Chicago, Rivera felt it was time for Johnson to fill the leadership void.
"I asked Charles Johnson to take over as captain so he puts the 'C' on his chest now," Rivera said. "And he's been carrying himself like that ever since. … It's amazing to watch his growth. Making Charles a team captain I think has helped him."
Added defensive coordinator Sean McDermott: "It means a lot to him, I know that. He takes a lot of pride in it, and he should."
Johnson was named captain during a defensive meeting, and he's embraced the added responsibility.
"It means a lot for coach (Rivera) and the players to accept you as captain," Johnson said. "I try to leave it all on the field and lead by example."
Hardy, 24, is one of the young defensive linemen following Johnson's lead. The third-year pro is full of personality, an eccentric one at that.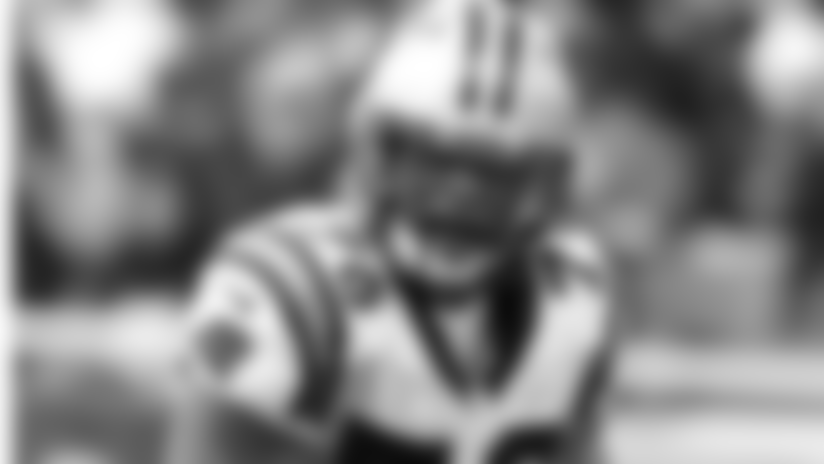 At one point last year, Hardy explained his "Kraken" alter-ego, a beastly persona that he utilizes to tear through offenses. But after an offseason meeting with Rivera, Hardy entered this campaign with a refined focus.
"I've changed my mentality," Hardy said in August. "I attacked this offseason instead of just going with the flow. I feel like I needed to become a better player, and that's what I've done."
He came to training camp without his motorcycle (it was a motorcycle accident that slowed him prior to camp in 2011) and he shaved his head to "show everybody that I'm serious about coming with my work hat on."
And through eight games, increased production has followed suit. Hardy recorded seven sacks over his first two seasons and already has 6.5 this year to go along with seven pressures. 
But there's still much to learn.
"Greg Hardy is still a young whipper-snapper," Rivera said. "He lives a little by the seat of his pants at times, and at other times he's a very thoughtful young man, who is maturing in a lot of respects.
"He is going to make young man mistakes, but I will say, I've seen him owning up to a lot of them this year."
A prime example came against the Washington Redskins last Sunday.
Early in the first quarter, the Panthers had pinned the Redskins back to their own 3-yard line, and it appeared as though a stop on third down had forced a three-and-out.
But Hardy roughed the passer, and the Redskins received an automatic first down. Hardy didn't need to be told. He knew his mistake – which led to a Washington field goal – was indefensible.
"He came to me right away," Rivera said, "and that was outstanding."
---
VALUABLE INSIDE PUSH: To have success on the edge, there has to be a presence in the middle. The push the Panthers are getting in the interior thanks to defensive tackles Dwan and Ron Edwards has been critical to Johnson and Hardy's success.
"Coming off the edge is important," McDermott said, "but if there is no push in there the quarterback just steps up."
Dwan Edwards isn't allowing quarterbacks to step up and avoid the rush. 
"He's been a major in factor in how the group has been performing," defensive line coach Eric Washington said.
Ron Edwards, with his 6-foot-3, 325-pound frame, has demanded double-teams.
"A plugger," Rivera said. "A space eater."
And Dwan Edwards has been a vertical penetrator.
After being released by the Buffalo Bills in the final roster cutdown, Edwards signed with Carolina just before the start of the regular season, and he's emerged as the Panthers' three-technique defensive tackle.
"In our system, the three-technique is the engine that drives the train," Washington explained. "Dwan has to win one-on-ones, whether they're run blocks, whether they're pass protections. He has to be able to win and collapse the pocket."
He's winning more often than not. Edwards has a career-high five sacks this season. He had 5.5 in his previous seven seasons combined.
"He just came in and fit in," Johnson said. "He picked it up like he's been here a couple years."
---
UNIFIED UNIT: There's a collective confidence brewing among members of the Panthers' defensive line.
"We're feeding off each other," Johnson said. "One person makes a play, then another person wants to make a play. We're all just trying to go out there and eat, trying to help the team out the best way we can."
Johnson and Hardy have headlined the D-line with their stellar pass rush, but the entire unit has elevated its play in recent weeks.
"As excited as I am about what Charles and Greg are doing, I'm equally as excited about the group," Washington said.
"It's coming from everywhere," Hardy said of the Panthers' pass rush.
And he expects it to keep coming.
"We are not going to stop. You can punch us in the face, throw us down, throw the flag. We are just going to keep coming," Hardy said. "That's what has gotten us to this point."