There was a whole lot of chatter going around the NFL draft in 2002, as there so often is.
And along with Julius Peppers, the Panthers were caught right in the middle of perhaps the greatest debate going.
Holding the No. 2 overall pick, behind only the Houston Texans' expansion franchise, the Panthers were coming off a 1-15 season and appeared to have needs in virtually every area.
Should they use it to take Peppers, a defensive end out of North Carolina whom some openly questioned took plays off in college? Should they grab a quarterback in Joey Harrington from Oregon? Should they go for someone else at another position? Or should they consider trading the pick to turn it into multiple choices, since they had so many positions that needed shoring up?
Making the issue even more complex, at least for outsiders looking in, was the fact that it was the first Carolina draft with Marty Hurney in position as general manager and with John Fox as the new head coach. How would they work together?
At the center of it all, though, was Peppers.
Hurney says now that he heard all the critics who were questioning whether the Panthers should use the pick on the 6-foot-6, 283-pound defensive end. Peppers took plays off at North Carolina, some said. He was more of a basketball player than a football player, others said, noting that he had the frame of a hoops player and had played the sport well at UNC.
"You get so caught up in your process and what you think, you know you can't listen to all that stuff," Hurney said. "But if you remember back then, there were not a lot of people who thought we should have taken Julius Peppers with the second pick. I remember some people saying, 'You took a basketball player?' There was somebody on TV who said we only picked him because he was a local guy and we were trying to sell tickets.
"All that stuff is out there, and you hear it. But you can't listen to it and you know that – because you know the draft is an inexact science. And whether it's the second pick in the draft or the second-to-last pick in the seventh round, you have to rely on your scouts, your opinions, your evaluations, your investigations. And then you do what you think is best for your organization."
What was being said most about Peppers was that he didn't always give it his best effort on every play. That kind of talk can shatter a player's draft status.
"Yeah, we heard it, too – that he didn't play all the time. But we did a lot of research on that. We even brought in a basketball tape and looked at that," Hurney said. "And John brought him in and said, 'Listen, you play hard. It's not that. It's learning how to finish some plays here and there.'
"When we brought in the basketball tape, it showed what intensity he had there. We watched that tape, and he was a difference-maker. He had special athletic ability. I just think he looked so smooth in his movements that people mistook that for lack of effort – and that wasn't the case."
Hurney did want to make one point clear, however.
"We didn't draft him because of what we saw on the basketball tape. We drafted him because of what we saw on the football tapes," Hurney said. "But the basketball tape was just an example of the extent that you go to when you're investigating a kid like that.
"The question for me, and I remember asking it of all our guys to this day, was, 'Is this a guy who will have double-digit sacks every year?' And to a man everybody said, 'Of course.' Julius was an impact player at an impact position. Defensive end is arguably the most impactful position on defense, other than maybe middle linebacker and a sit-down press cornerback."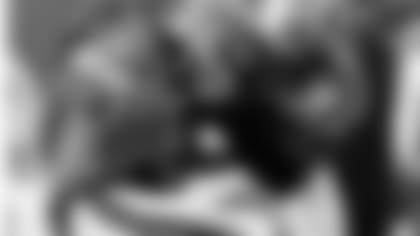 It wasn't long after Peppers arrived that he began having a positive impact. As a rookie, he registered 12 sacks, forced five fumbles and had an interception despite playing in only 12 games.
Jordan Gross, an offensive tackle who was Carolina's first-round pick in 2003, remembers an eye-opening introduction to Peppers when he first tried to block the defensive end in training camp.
"We had spring ball, but we weren't in pads. So you kind of got a feel for it, but it wasn't the same," Gross said. "So our first live drill in our first training-camp practice was a pass play. I dropped back and Peppers came with a full-speed bull rush and knocked me right on my back, right in front of everybody.
"And I remember thinking, 'Oh my God, I'm a bust.' Because that was his standard and that was all I had ever gone against up to that point, that talent level. … I thought that was the norm. Then you start playing the games, and you realize not everyone is a 24-year-old Julius Peppers. Some people are a little easier to stay in front of."
Gross went on to say that Peppers athleticism put him "in a whole other classification of human." But while he added that blocking him in practice "was awful," Gross admitted it had another effect. It made Gross better, and he went on to appear in three Pro Bowls.
"He was just so big, strong and quick. I mean, he was as quick as a little guy, but just massive. Taller than me, I probably had 15-20 pounds on him is all. And his change of direction was just so fast," Gross said.
"I went against him for seven training camps in a row. And if I wasn't exactly perfect, I was going to get beat. I had no room for error against that guy – at all. At all."
Peppers, of course, has been named to eight Pro Bowls and is a three-time first-team All-Pro. And he's still playing, although now for the Green Bay Packers. Gross retired after the 2013 season.
Peppers played eight seasons for the Panthers, and racked up double-digits in sacks in six of them. In 2004, he not only had 11 sacks but also two interceptions, including one he returned 97 yards at Denver. He also had nine passes defensed that season, unusually high for any defensive end, forced four fumbles and recovered one.
In 2008, his next-to-last season in Carolina, he piled up 14.5 sacks. His total of 81 sacks over his eight seasons in a Panther uniform remain far and away the most in franchise history.
It's safe to say now, looking back, that Hurney and his staff made the right call on the first pick in Hurney's 10-year run as the team's general manager.
"You're always nervous," Hurney said. "And the higher the pick, the more nervous you are. Because you know you have to hit on it or else it's going to set your organization back.
"But we did so much work. That was the first year John (Fox) and I were together, and it was the start of a relationship where, whether it was John or Ron Rivera, we always had a really good rapport between the scouting staff, the personnel staff and the coaching staff. There was good communication, there was good balance, and that translates into successful decisions."