CHARLOTTE - The Panthers acquired an extra fourth-round pick in the early stages of the NFL Draft on Saturday, allowing them to select Oklahoma defensive end Frank Alexander and Arkansas wide receiver Joe Adams with back-to-back picks.
Carolina picked Alexander at No. 103 overall after acquiring the pick from the San Francisco 49ers in exchange for the Panthers' sixth-round pick this year (No. 180 overall) and their third round pick in 2013.
"Frank Alexander was the one guy where if we could get in the fourth, we were going to make a trade," Panthers general manager Marty Hurney said. "When you watch him on tape, he just makes plays. He's a hard worker that fits into the same mold as the guys we've already taken.
"Joe Adams is an excellent return man. He has big-play ability as a punt returner but can also compete at the slot position and outside at wide receiver."
Alexander was named second-team All-America by the Walter Camp Foundation and Co-Big 12 Defensive Player of the Year by the conference's coaches last season, when he racked up 8.5 sacks for the Sooners. The 6-4, 255-pounder amassed 20.5 sacks over a four-year career in which he played in 48 games and started 31.
"He's a guy who can come in and be a part of the rotation," Panthers head coach Ron Rivera said. "He will play both sides of the defense for you. He can play in critical pass-rushing situations, and he can also play on first and second down. He's got the kind of ability that lends to making plays."
Alexander had planned to show off his skills at the NFL Scouting Combine but never got a chance after a scare involving his heart sent him home early.
"The doctor told me that he thought I had a hole but that he wasn't 100 percent sure, so he wanted me to get opinions from other doctors," he said. "It was hurtful experience to make it to the combine and to be told that you can't compete. For a competitor, that's a hard deal. I just gave it up to God, and I knew he was going to work it out for me.
"I got four different opinions after I left the combine, and they didn't see a hole. They said my heart was healthy, that it was just a misread test."
On the field at Oklahoma, Alexander consistently displayed the kind of heart the Panthers are looking for in their draft picks.
"I'm just a hard-working, competitive player," Alexander said. "I'm physical, and I play the game smart. I try not to get into any dumb situations that jeopardize my team in any way. I try to go out there and play to the best of my ability and carry out the game plan.
"I have a good motor, and I play hard. I feel like I can bring a lot to the Panthers."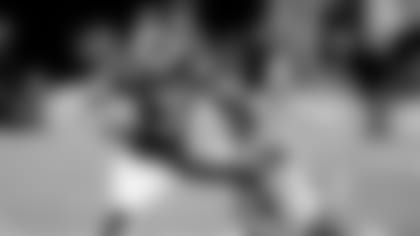 Adams was the preeminent punt returner in college football the last couple of seasons, returning five for touchdowns in his final 20 games. The 5-10, 174-pounder averaged 15.8 yards per punt return for his career, the second-best career mark in SEC history.
Steve Smith, the most decorated wide receiver in Panthers history, jumpstarted his pro career as a dynamic punt and kickoff returner, making the Pro Bowl as a rookie.
"I've watched Steve Smith a lot. To get a chance to learn from him is a great feeling," Adams said. "I also feel like I'm a great receiver.
"This is a great situation. I'm proud to have been selected. I'm going to make sure I go out there and do everything I can to make them proud."
Adams finished his four-year career with 164 catches for 2,410 yards and 17 touchdowns, and the Razorbacks also found other ways to get him the ball in space. He had 27 rush attempts over his career and turned them into 248 yards, scoring twice.
"When you put the tape on, you see his explosiveness, his vision, the way he runs with the ball and the way he creates," Rivera said. "There are a lot of positives he brings to the table with his return ability, and then as a slot receiver he's a guy who understands the routes that need to be run and where he needs to sit down in holes, things like that.
"We really do look forward to having a young man like that on the team."