LOS ANGELES – Sweat was still dripping off their exhausted faces. The jerseys and pants covered in grass stains. Helmets and facemasks scraped and scratched.
Here were the Panthers in the visitors' locker room at the L.A. Memorial Coliseum, moments after beating the Rams 13-10 and improving to 3-5.
There was hardly any room to move in that locker room. Players were practically leaning on one another once they made their way in.
It mirrored the characteristics of the game they had just played – a game where there were hardly any opportunities to run free, a game where teammates leaned on one another for four quarters and ultimately came together for the definition of a "hard-fought" win.
"It's about as physical game as I've been a part of," said head coach Ron Rivera, whose team claimed a victory with 244 yards of total offense.
That's saying something, especially coming from Rivera, a hard-hitting linebacker who played during the 1980s.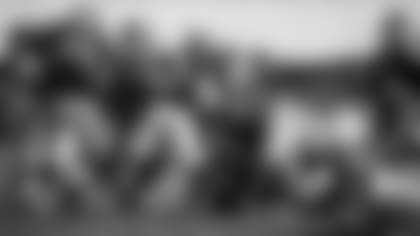 This game was a defensive slugfest, and these two defenses were up for a four-quarter fight. Both offenses came in determined to run the ball, and both ran into brick walls.
Carolina rushed 25 times for 59 yards. Los Angeles rushed 17 times for 59.
"You know coming into a game like this that it's going to be a tough, physical game," said linebacker Thomas Davis, who made the play of the game when he intercepted Case Keenum in the third quarter. "You know how they're built defensively, you know how we're built defensively. You welcome those kind of matchups, and you just want to be the last team throwing punches."
The Panthers were the last team standing after what many will label an "ugly" win. But the players in that cramped visitors' locker room see a lot of value in the way this game was won.
"You have to win like that sometimes," linebacker Luke Kuechly said. "Not every game is going to be a blowout. It was good for us to get a win like that."
No one denies how nice is to coast to a blowout victory in the NFL. But a win like this one against the Rams forced everyone on the field to grind for every inch.
And when a team emerges victorious from that kind of battle, it has a galvanizing effect.
"If anything, that's when you learn more about yourself – when you are in those dogfights and you have to find a way," safety Kurt Coleman said. "It feels good to go on the road and get a win like that where you've got to gut it out. This is something we can build on."
View game action photos from Carolina's 13-10 win over Los Angeles.