CHARLOTTE – As a player on dominating defenses in Chicago for nearly a decade and as a coach of dominating units in Chicago and beyond for even longer, Panthers head coach Ron Rivera knows elite defensive talent when he sees it.
Already, rookie defensive tackle Star Lotulelei has the look.
"He's been very good," Rivera said. "He's a young guy that's learning to be a pro and learning very quickly.
"And he's taking it upon himself to get it done. That's the beautiful nature of who he is."
This time last year, then-rookie linebacker Luke Kuechly began to assert himself for the Panthers, starting an ascent that eventually resulted in him leading the league in tackles and being named NFL Defensive Rookie of the Year.
In 2011, then-rookie quarterback Cam Newton hit the ground running – and throwing – setting all sorts of records on his way to NFL Offensive Rookie of the Year honors.
Given Lotulelei's position in the middle of the Panthers defensive front, he isn't likely to put up the kind of jaw-dropping numbers that those rookie recipients did. Even so, he might still be hoisting the same hardware at season's end.
"When I first got here, Jordan Gross picked on me about it, saying, 'You know we've had rookies of the year the past two years, so no pressure,' " Lotulelei said. "But nobody's really putting that pressure on me. It's just about me doing my part for this defensive line and this team.
"I try not to focus on those kinds of things. I come in each and every week and work, and if I do my part, all of those things will fall into place if it's meant to be."
Things certainly fell into place for the Panthers to end up with Lotulelei on draft day, albeit under a difficult set of circumstances for him. The Utah product arrived at the NFL Scouting Combine in February as one of the players being mentioned as the potential No. 1 overall choice, but by the end of the combine some wondered if he'd be a first-round pick.
During the typical battery of tests administered by doctors at the combine, one showed that the left ventricle in Lotulelei's heart wasn't operating at the capacity it should. Lotulelei wasn't allowed to work out at the combine as planned, and he fell out of football shape as he figured out the next step.
Multiple follow-up tests showed that the concerns were unfounded, and the buzz around Lotulelei returned but not at the same level. The Panthers went into the draft uncertain whether Lotulelei would still be on the board when they made the 14th overall selection, but they pounced when he was.
"He had a very average workout with us because he wasn't in shape, but when we put on the game tape, you see him get after USC, see him get after solid football teams and win," Rivera said. "For whatever reason, we fall in love with guys running around in shorts. You've got to be careful with that. The tape doesn't lie."
Through three games, Lotulelei's performances have been true to the tape. He recorded a sack and a tackle for loss in last Sunday's defensive domination of the New York Giants, but his statistics don't tell even half the story.
"He may not have as many sacks, but how many times did he take on a double-team? How many times did he absorb it, and all of a sudden Luke or Thomas Davis is in the crease making the tackle?" Rivera said.
"The thing that I really like about him is his first explosive step. If he gets vertical into the crease and penetrates, he's going to be disruptive and make the play. If he doesn't make the play, he's going to allow Luke to make it or Thomas or our safeties coming down in the box."
Lotulelei's impact is being felt by his fellow defensive linemen, too.
"The dude is everywhere," said defensive end Greg Hardy, who was named NFC Defensive Player of the Week after recording three sacks against the Giants. "He is a superstar. And he's humble about it. He's down to earth.
"He wants to work. That's what makes a star – guys that just want to be better because they like being better. I feel like he's got that character. He's that type of person."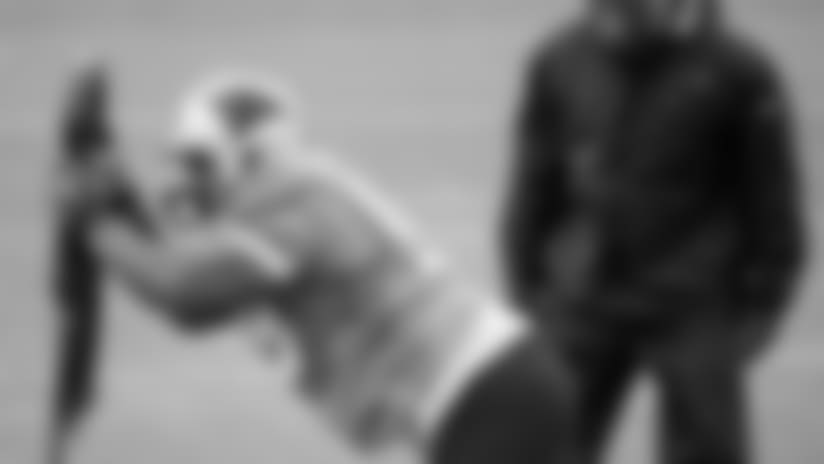 Lotulelei already feels like he belongs in the NFL, but he doesn't feel like he's arrived. He's there with his fellow rookie and second-year defensive linemen taking extra reps after practice. He's there after position meetings break up.
"It's one thing to be excited, but it's another thing to work on becoming that each and every day," Lotulelei said. "The minute you get comfortable in this league, that's when you either get replaced or you get beat on Sunday. You can't do that.
"I feel pretty comfortable, but only to a point. There's still a lot of room to improve, but I am pleased with some of the things I've done so far."