Highlights were plentiful during the Panthers' 12-4 season that included their first NFC South title and playoff appearance since 2008. After previously honoring standouts on offense, defense and special teams, Panthers.com concludes its look back at 2013 with the top 10 plays of the year in chronological order. What was your favorite? Let us know in the comments section at the bottom of the article.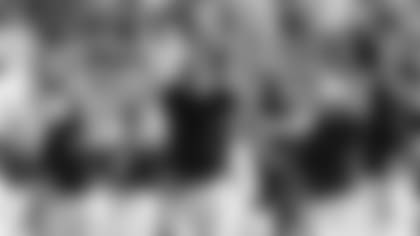 Week 3 vs. New York Giants: Off to an 0-2 start and facing an equally desperate Giants team, the Panthers defense came out like gangbusters against Eli Manning and Co. Yet, when tight end Greg Olsen was brought down just short of the first down to set up fourth-and-1 at the Giants' 2-yard line late in the first quarter, the game was scoreless and the Panthers were unsure what to do.
One week after settling for a field goal rather than going for a game-clinching first down at Buffalo - only to suffer a last-second loss - head coach Ron Rivera decided it was time to gamble. The Panthers went for it, and fullback Mike Tolbert powered his way over the goal line, kicking off a stretch in which Carolina scored on five of six possessions to roll to a 38-0 victory.
The moment Tolbert's toe touched the goal line, the legend of "Riverboat Ron" was born.
"Once we get in that position, we've got to get it in the box," Tolbert said. "We got a little momentum going, and things started rolling from there."
Week 6 at Minnesota Vikings: After failing to capitalize on the momentum of the Giants victory, the Panthers were right back in must-win mode. They led 14-3 at halftime but weren't out of the woods yet. That's when quarterback Cam Newton and wide receiver Brandon LaFell turned the game into a blowout, connecting for a 79-yard touchdown just one minute into the second half.
The play was notable for the massive block delivered by diminutive wide receiver Ted Ginn and also for the fact that LaFell was Newton's final read on the play, another sign that his learning curve was flattening out. The play held up as Carolina's longest of the season and helped the Panthers to their first road victory, 35-10.
"I turned around and saw Brandon only had one guy to beat," Ginn said. "I was originally just trying to get in his way, but I got there so fast so I tried to take him out."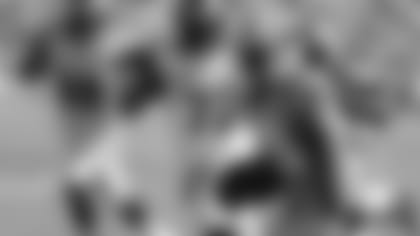 Week 7 vs. St. Louis Rams: The Panthers still hadn't won back-to-back games, but cornerback Captain Munnerlyn put them on the fast track to what would eventually add up to a franchise-record eight-game winning streak.
On the game's first offensive snap, safety Quintin Mikell hit St. Louis quarterback Sam Bradford as he threw, resulting in a floating duck that Munnerlyn dove for at the Rams' 45-yard line. Munnerlyn got to his feet and scurried down the sideline, making some nifty moves in traffic to stay inbounds and taking it to the end zone.
The Panthers never trailed in a 30-15 victory thanks to that play, which allowed Munnerlyn to equal the franchise record for interception returns for touchdown with four. He later broke the mark against the New York Jets.
"Quintin Mikell made the play," Munnerlyn said. "He hit the quarterback's arm, and it was like a punt return for me. It floated up there, and I was in position to make a move and get in the end zone."
Week 9 vs. Atlanta Falcons: Newton's hometown Falcons mostly had his number through his first two NFL seasons, but Newton did a number against them in 2013, highlighted by a highlight-reel escape. On a third-and-12 play early in the second quarter, Newton somehow shed tackle attempts by Osi Umenyiora and Paul Worrilow, juked free from Asante Samuel and created a window to zing a 23-yard pass to Steve Smith.
Newton's scramble later in the year against the Patriots was at least as spectacular, but this one signaled that the Panthers – not the Falcons – were pointed toward NFC South supremacy.
"It was a whole team effort with guys grabbing the bull by the horns and saying, 'I'm going to be the one to make the play,'" Newton said.
Week 10 at San Francisco 49ers: The Panthers were riding a four-game winning streak, but doubters said they hadn't beaten an opponent of note. Graham Gano had made every field goal attempt to date, but doubters said he hadn't faced a pressure kick.
In an epic defensive struggle, Gano did miss for the first time, sailing a 48-yarder late in the third quarter wide left with the Panthers trailing 9-7. All Gano could do was hope for another opportunity, and he was ready when it arrived, drilling a 53-yarder with 10:05 left that gave Carolina a huge victory and quieted the doubters.
"I hope every game comes down to a field goal. That's what makes the job fun," Gano said. "I said going out after halftime that I hope I get a game-winner, hope the game comes down to me. I was fortunate enough to get another kick."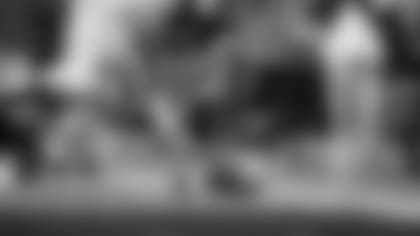 Week 11 vs. New England Patriots: It was the first Monday Night Football game at Bank of America Stadium since 2008, and it was against perennial power New England.
And under the bright lights with the Panthers trailing by three late in the fourth quarter, Ginn turned a routine catch into the jaw-dropping game-winning score.
Newton completed a short pass to Ginn on a hitch route and the speedster did the rest, turning out of a tackle attempt and sprinting to the corner of the end zone to give Carolina a 24-20 lead with 59 seconds left.
"Once I saw the opening, I just took it," Ginn said. "I just turned and tried to make something happen, and luckily I turned it into a touchdown."
Week 12 at Miami Dolphins: The Panthers recorded their third consecutive fourth-quarter comeback, and it couldn't have happened without a clutch catch by wide receiver Steve Smith.
Down by three in the game's closing minutes, the Panthers faced fourth-and-10 from their own 20-yard line. Newton fired a strike over the middle to Smith, who held on and shrugged off a tackle before picking up 19 yards to keep Carolina's hopes alive. The Panthers took the lead for good eight plays later, pulling out a 20-16 win.
"Just Agent 89 doing what he does best," Newton said. "He's been doing that his whole career, making big, outstanding catches when we need it."
Week 15 vs. New York Jets: Carolina clung to a slim three-point lead against the Jets until linebacker Jason Williams blew the game open early in the fourth quarter with a game-turning special teams play.
With the Jets punting from their own 30-yard line, Williams came right up the gut to block the punt, allowing the Panthers to take over at the New York 14. Carolina extended its lead to 10 three plays later and won comfortably.
"They were taking their wing and motioning them out to the side, so basically there was no one left in the backfield anymore," Williams said. "If we set our call up right, it was just me against the long snapper one-on-one. That's a bad matchup for their long snapper. If I get blocked by a guy with his head down, something is wrong with me."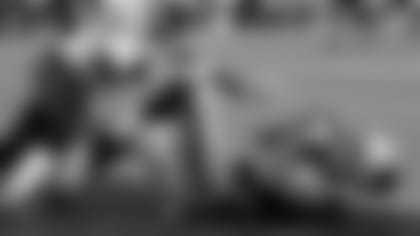 Week 16 vs. New Orleans Saints: With the NFC South division title on the line, the Panthers lost Smith early in the game to a knee injury.
Wide receiver Domenik Hixon (three catches on the season entering Week 16) stepped in for Smith and delivered one of the most memorable plays of the season. The Panthers trailed by three with 55 seconds left in the game and no timeouts. After two perfect passes by Newton, the Panthers suddenly faced second-and-10 from the Saints' 14-yard line.
Hixon ran a seven-route to the end zone and dove to secure the ball for the game-winning touchdown catch with just 23 seconds remaining.
"Cam, he hung in there tough. He just tried to throw the ball and give me the opportunity," Hixon said. "A great ball where only I could catch it."
Week 17 at Atlanta Falcons: An unlikely hero emerged again in the regular season finale.
This time, with the Panthers trailing 10-0 midway through the second quarter and struggling to sustain any offense, undrafted rookie cornerback Melvin White completely turned the game around.
Falcons quarterback Matt Ryan threw an errant quick pass from his own 2-yard line that White picked off. After stumbling to the turf, White crawled into the end zone for the 8-yard touchdown. He was later awarded the game ball following Carolina's division title-clinching 21-20 victory.
"We just knew from film study once they get in tight, inside the numbers, they like to run the quick outs," White said. "I read it and just went with it."
---
Senior writer Bryan Strickland and staff writer Max Henson contributed to this article.