CHARLOTTE - One week before the NFL Draft, Panthers general manager Marty Hurney is confident the team will get a quality player when they make their first selection.
He isn't as confident about when the Panthers will make their first selection.
Hurney virtually shut the door on the possibility of the Panthers trading up from their No. 9 spot but left the door open to the possibility of trading down – for the right price and the right fit.
"We do all think it's a deep draft," said Hurney, joined at Thursday's press conference at Bank of America Stadium by head coach Ron Rivera and director of college scouting Don Gregory. "So if the right situation comes along and you can move back and collect more picks, then you do so.
"We'll know going into draft day who we would stick (at No. 9) for and when we could trade back. We feel like we're going to get a good player either way."
Hurney wouldn't discuss any specific players or positions the Panthers might target with their first pick, in large part because that's not the way the franchise approaches the draft.
The Panthers ranked seventh in the NFL in total offense and 28th in total defense last season, but that doesn't mean they'll be totally defensive come time to pick.
"We're going to take the best player there because if we just keep adding good football players to this team, we can keep making progress," Hurney said. "You definitely can say that we do have needs on the defensive side, and we're hoping that some of the players coming back from injury will fill some of those.
"That said, our mindset in this draft – in every draft – is to take the best player. We also have some needs on offense. You want to keep your strength strong."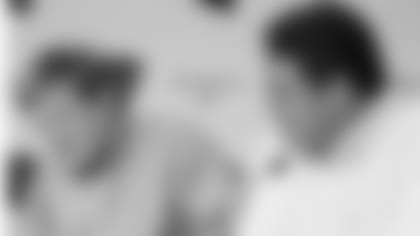 Rivera said he'll enjoy watching Hurney squirm a little bit as names go off the board ahead of the Panthers. It's a different situation than Rivera's first draft with the team, when the Panthers picked No. 1 overall and selected quarterback Cam Newton.
One thing hasn't changed, however.
"We'll decide who fits us best and will help us immediately," Rivera said. "We're not taking a guy to have him develop; we're taking a guy to put him on the field and help us right away.
"I was really pleased with what happened last year. I thought the guys we brought in through the draft and college free agency helped us. Most of the guys that were on our practice squad were activated last year, and most of our draft picks contributed. Our scouts did a heck of a job."
The scouts' job started anew last August, when they hit the road to begin the process of forming this year's draft board. By October, they already had players divided into early- and late-round prospects, and by December they had the initial draft board set.
Since then, the board has undergone countless tweaks as college all-star games, the NFL Scouting Combine, pro days and 30 in-stadium prospect visits have come and gone.
"We're at the point in the process where we're massaging, trying to get everything right with the details," Gregory said. "We're getting everyone on the same page and fine-tuning everything. We're criticizing every player right now to make sure we find the right fit. All of us in the room have our own opinions, but we're making sure we come together on that opinion in the end."
Beginning with the first round April 26 and continuing for two more unpredictable days, all will at long last be revealed.
"The great thing about the draft is that you don't know what's going to happen," Hurney said. "That's what makes it so much fun."