CHARLOTTE – During one period near the end of opening day at rookie minicamp, all of the players jogged off the practice field and lined the sidelines save three: long snapper Nolan Frese and punters Jamie Keehn and Cason Beatty.
It won't be the last time all eyes are on the Panthers' punters this offseason.
"They want to simulate the pressure of a game the best they can because when we're in the stadium, it's just us against the returner," Keehn said. "It was good to get out in front of the whole team to show your worth."
Added Beatty: "That's the time to shine."
The Panthers are looking for someone to shine at punter after Brad Nortman, the lone punter drafted in franchise history, signed with the Jacksonville Jaguars after four seasons with the Panthers.
In February, a month before Nortman left in free agency, the Panthers signed punter Swayze Waters. A month after Nortman left, the Panthers signed punter Michael Palardy. Both have kicked in NFL preseason games, and Waters was Special Teams Player of the Year in the Canadian Football League in 2014, but neither has kicked in an NFL regular season game.
Neither have Keehn or Beatty, but then again, they're rookies, invited to minicamp to try to prove they should be able to compete for the job.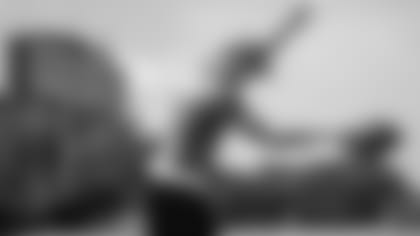 Keehn kicked at LSU for four seasons, waiting in the wings behind Brad Wing – now the New York Giants' punter – as a freshman before starting the last three seasons.
Where did Keehn kick before then?
"These other guys punted in high school and college, so they're way ahead in reps. I'm trying to catch up the best I can," said Keehn, who grew up in Australia. "It was a great experience walking out in front of 95,000 people for the first time and just learning the game. I'm still learning. I'm still very raw."
Keehn said it was "random" how he got into American football. He competed in rowing and threw the javelin as a youth but always had a good leg, one that he began to develop when he started working at Prokick Australia, a kicking school founded by Nathan Chapman, who punted briefly in the NFL and played Australian Rules Football.
Chapman's list of students includes Wing and Tom Hackett, the winner of the Ray Guy Award the past two seasons at the University of Utah who signed with the Jets as an undrafted free agent.
"I started kicking with him, and eventually I ended up at LSU and had a pretty solid four years there," Keehn said. "When I got call from the Panthers, I was happy to jump on a plane to get here, to get this experience and to show what I can do.
"It's a great opportunity to put my best foot forward."
Beatty had a more traditional path to this point and a much shorter one to Charlotte. He kicked at Charlotte Olympic High School before starting at Florida State the last four seasons, three of which included a trip to Bank of America Stadium for the ACC Championship.
"Being in this atmosphere before and having come to games as a kid, to get signed to compete would be amazing," Beatty said.
Beatty continued to train in his hometown after heading to college, getting guidance from former University of North Carolina kicker Dan Orner, whose kicking school is based in Charlotte. Beatty consistently improved each season at Florida State, leading the ACC with 45.2 yards per punt as a senior.
"I'm still climbing," Beatty said. "We set out a plan before my junior season and just ran with it. He called me every Sunday after games my senior year, and I was always on a wave. I was on a big wave, and I just kept my foot on the pedal and rode it."
Beatty said Orner has "10-11 NFL guys" who have worked with him, including Florida State kicker Robert Aguayo, just drafted in the second round by the Buccaneers.
"Hopefully," Beatty said, "I'll be the 12th."