CHARLOTTE — You can hear it in Panthers head coach Matt Rhule's voice; he's sincerely hoping that Joey Slye can get out of his current slump and start making kicks.
Rhule also has an entire team to consider.
"I mean, Joey's made 50 kicks in the National Football League. He can make kicks," Rhule said Wednesday. "Sometimes in life you've got to go through a valley, and you've got to fight, scratch, and claw your way out of it. I'm sure he will. I really do. I believe in Joey Slye, and I'm sure he will.
"At the same time, we have to continue to bring in competition so that we put the best, what we think is the best opportunity to win out there."
Wednesday, they pushed through the first day of the competitive portion of Slye's offseason, and the results were not ideal for their incumbent kicker.
During a three-kick period of practice Wednesday, Slye missed all three field goals he attempted, extending a slump that has lasted through the preseason.
His first attempt missed wide right, the second hit the left upright and bounced out, and the third was wide right again.
Newcomer Dominik Eberle got the same three-kick chance, and hit his first two, before a bad snap by Thomas Fletcher earned him a do-over. With veteran JJ Jansen snapping that one, Eberle missed wide right.
Later in practice, each of them had a chance to run in from the sidelines for hurry-up kicks, and both hit a pair of chances in that scenario.
Slye has missed a pair of field goals (from 37 and 63 yards) and a 43-yard extra point this preseason.
"Obviously, we're not kicking the ball the way we want right now," Rhule said. "So we wanted to bring in some competition and explore all options. I know that Joey can do it. I'm expecting him at some point here, I'm hoping for him that he just kind of gets over this lull that he's in right now and kicks the way I know he's capable of.
"At the same time, we're going to bring guys in and see what's the best thing for the team."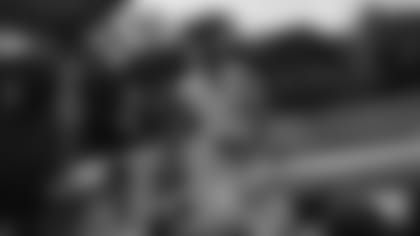 The Panthers have largely left Slye be this offseason. They had Matt Ammendola here from March to May, after Lirim Hajrullahu was waived without getting to OTAs. They brought in veteran Zane Gonzalez on a tryout basis but didn't offer him a contract.
Otherwise, Slye had been alone at his position, until Tuesday, when Eberle was signed after a tryout.
The Panthers considered some other kickers, but multiple factors (including vaccination status, since anyone who comes in who is unvaccinated against COVID-19 would have to go through a five-day testing protocol before they're available to kick) led them to leave it alone until this week.
"Honestly, he's done well, he's done really well," special teams coordinator Chase Blackburn said of Slye. "That's the unfortunate part of this business, especially in the specialist's world. You can perform day in and day out, but when that time happens in a game, you have to perform and be at our best when our best is needed. That's the ultimate test of a specialist."
Asked if he thought Slye was over-thinking his job (Slye like many players has worked with a sports psychologist), Blackburn said that being meticulous was to Slye's benefit before this latest slide.
"He's a technical kicker," Blackburn said. "He likes to know what's going on with his swing, and he's evaluating it constantly. That's his process; that's worked for him. Honestly, it was helping him along the progress.
"For whatever reason, there's something missing right now that he'll get right, and he'll correct, and we'll correct and move forward."
As for Eberle, Blackburn said he had a "very repeatable swing, smooth, just confident in what he's doing and comfortable."
Eberle kicked in Raiders camp earlier this summer, with the former Utah State kicker making both of his field goal attempts.
To hear them talk about it, they'd clearly like for Slye to turn things around. Now it's on him.
"We talk constantly," Blackburn said of Slye. "It's kind of the same kind of conversations as always, where can we improve in certain areas, the things we have to get better at as a unit, to make him more comfortable and confident. And just making sure every day he's competing with himself, even before someone was here. That's the biggest conversation.
"He's got to go out and execute. He does it in practice; we've just got to take it to the game."