CHARLOTTE – For the first two-and-a-half seasons of head coach Ron Rivera's tenure, the Panthers believed they could win close games.
Three weeks ago, the Panthers stood at 2-15 under Rivera in games decided by seven points or less. Now they're 5-15 after capturing their third such victory in as many weeks Sunday with a 20-16 triumph at the Miami Dolphins.
"I think it has a lot to do with us growing up," Rivera said. "It's the growth of our quarterback and our offensive unit and the growth of our defensive unit as well.
"These guys understand what it takes now, and they're still learning and growing and getting better and better. By no means are we there, but we've done the things that we've done to give ourselves a chance to win."
The 5-15 mark is a bit deceiving when you consider that the Panthers are 4-1 in games decided by eight points. That means Carolina is actually 9-16 in one-score games since Rivera took over as head coach and Cam Newton took over as quarterback. Since the halfway point of their first season in 2011, the Panthers are actually 8-11 in one-possession games.
But even though the close-game struggles might not have been as pronounced as it seemed, there's no denying that Carolina has been a decidedly different team in close games of late.
"They've always believed, and they've got a little bit of a swagger in those situations now," offensive coordinator Mike Shula said. "We practice those situations a lot. You just keep talking to your players and keep practicing and making corrections and having awareness of the situation, and we're talented enough that eventually we were going to make the plays."
For the second consecutive week, Shula's offense produced a long go-ahead touchdown drive in the waning minutes that left the opposition with precious little time to answer. Six days after marching 83 yards in 5:33 to leave the New England Patriots with just 59 seconds to rally, the Panthers drove 80 yards in 3:30 to leave the Dolphins with just 43 seconds to rally.
The latest game-winning drive nearly died before it started.
With 2:33 left, the Panthers faced fourth-and-10 from their own 20-yard line. Rivera opted to go for it, and Newton hooked up with Steve Smith in traffic for a 19-yard gain.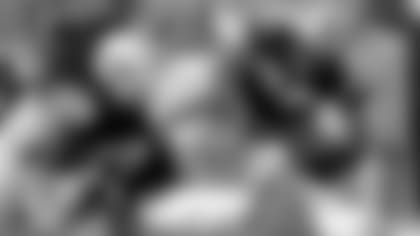 "As Steve likes to say, in big games big players make big plays," Rivera said. "That fourth-and-10, the philosophy on that was that we had to get a first down. To me, there were no ifs, ands or buts. We had one timeout left and I know we had the two-minute warning, but I really felt we had to get the first down.
"That was going to be our best opportunity, and I didn't want to punt."
The offense rolled down the field from there and then turned it over to the defense, which closed out the first game in the streak of close victories by holding San Francisco scoreless for the final 36 minutes.
This time, after the Dolphins claimed a 16-3 lead, the Panthers held them scoreless for the final 31 minutes.
"When you win football games in this league, the margin between winning and losing is very small," defensive coordinator Sean McDermott said. "Number one, you've got to do things right during the week. We've talked all along about earning the right to win. You don't win in this league without doing things right off the field and on the field in preparation work.
"All of those things add up in terms of putting ourselves at the doorstep of winning. That's what our guys have been doing."
The Panthers had been knocking on the door for a while, like in heartbreaking losses to Seattle and Buffalo to open the season. Now, they've knocked down the door.
"There's a confidence level now," Rivera said. "We should win games. There's a confidence that we can do things, that we can make things happen and make plays when we need it."