CHARLOTTE – The Panthers coaching staff thought long and hard about how to best use Kony Ealy in their defensive end rotation coming out of the bye week.
Then Ealy came off the bench and helped the defensive line play its best football of the season by not thinking long and hard about his newly defined role.
"I'm not going to say that I'm better on the left or better on the right. When I'm out there and I'm not thinking and I'm just doing, I'm better. Period," Ealy said. "I think that's really been my problem until now, so I've just got to keep the process going, keep doing what my coaches tell me and feed off the energy of my teammates and just go out there and max out."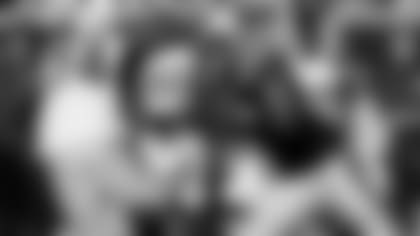 Ealy had been starting on the right side of the defensive line opposite Charles Johnson. But last Sunday against the Cardinals, the Panthers started run stopper Wes Horton on the right side and rotated Ealy in, predominantly on the left side.
That's where Ealy was lined up when he tipped a Carson Palmer pass to himself for his first career regular season interception to seal a victory in which the Panthers recorded eight sacks.
It's also where Ealy was lined up for two of his three sacks in Super Bowl 50.
"He's a dynamic pass rusher, and one of the things we noticed and that the coaches talked about during the bye week and last week was that most of his consistent plays and opportunities come from the left side," head coach Ron Rivera said. "Charles (Johnson) is playing very well, and rotating Kony into that spot seemed to spark a little bit for him. Kony didn't get a sack, but some of the pressures he had and some of his rush in terms of getting the quarterback off his spot, that's what we're looking for – and we're looking for him to do is consistently."
Ealy also might have been better because he played fewer snaps – and the same goes for Johnson, who recorded his first sack of the season against Arizona. In the game before the bye, Johnson and Ealy played 51 and 50 defensive snaps, while Mario Addison and Wes Horton combined to play 51. After the bye, all four logged between 29 and 41 snaps.
Ealy played just 23 snaps in the Super Bowl, when he recorded three sacks, an interception and a forced fumble. The strip-sack and interception came from the right side, but obviously all of his big plays came when he was relatively fresh.
"I just appreciate being able to play," Ealy said. "I understand that the pass rush will come alive. Not just for our D-line, but for me too as an individual. I've just got to keep working. It's a process.
"It came late for me last year, and the year before that. It's a process, and I've got to keep working with my coaches and my teammates and it'll come through for me."
View photos of Carolina's week of practice leading up to their game against Los Angeles.