CHARLOTTE – After suffering their first loss of the season in Week 16, the Panthers have vowed to learn and grow from that experience.
One of the lessons coming out of that 20-13 loss against Atlanta is the danger that comes from a quarterback having too much time to pick out his target.
"We've got to affect the quarterback better, no doubt," defensive coordinator Sean McDermott said.
Defensive tackle Kawann Short notched two sacks last Sunday, bringing his team-best total to 11, but Matt Ryan spent most of the day avoiding the rush and creating plays downfield.
"The rush and the coverage have to work hand in hand," McDermott explained. "We've got to rush better and cover better."
Carolina's defensive ends know their ability to collapse the pocket is a big factor in that equation, but they haven't been able to get home in recent weeks. Mario Addison's half-sack in Week 14 is the only sack registered by a Panthers defensive end during the last four games. Despite that, Carolina still ranks third in the NFL with 42 sacks on the year.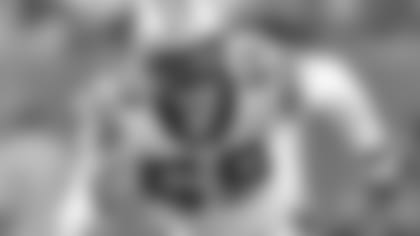 "We have to get more heat up front – that's definitely part of it," said defensive end Jared Allen, the NFL's active career sacks leader. "We need to win our four-man rushes and force (quarterbacks) to be uncomfortable."
Allen knows production off the edge needs to increase with the playoffs looming.
"I can only speak for myself, and I'm a harsh critic," Allen said. "We have to get there faster. That's all part of the game. You have to grind through those low times and take advantage of the opportunities when you get them."
Since joining the Panthers' D-line rotation via a trade with the Bears back in Week 4, Allen has started all 11 games he's played but recorded just one sack.
"Would it be awesome if my numbers were better? Yeah. But they are not right now," Allen said. "One thing I can control is going out there and putting it on the line every week. When I am on the field, I am going to play as hard as I can and let the chips fall where they may.
"I try to put my personal goals on the back burner and enjoy the ride. Put the team first."
No one in the defensive meeting room cares who gets the sacks or the quarterback hits. It's about finding a way to generate pressure collectively to help the Panthers chase down quarterbacks and their ultimate vision.
"I've had a ton of individual success in this league, but I've never won a championship," Allen said. "That's my only goal, and that's all I'm focused on. We're still 14-1. We still have a lot of great things ahead of us."
View the top photos by photographer Kent Smith from Carolina's game against Atlanta.