CHARLOTTE – The Panthers made a multitude of roster moves Tuesday, welcoming three players to the 53-man roster in the process.
Carolina placed safety Sherrod Martin and defensive end Antwan Applewhite on injured reserve and waived offensive lineman Jeremy Bridges.
Running back Armond Smith and offensive lineman Thomas Austin were promoted to the 53-man roster from the practice squad, and the team signed defensive end Mario Addison from the Washington Redskins' practice squad.
"It's unfortunate," interim general manager Brandon Beane said. "Sherrod was really coming on and showing a lot of improvement. He's a great kid. I feel bad for him.
"Antwan with the hamstring, that's a tough thing where it's hard to say when he'll be healed. He tested it out the last couple of weeks but didn't feel like he was where he could go."
The Panthers now have 13 players on injured reserve, including Pro Bowl center Ryan Kalil and defensive starters Jon Beason (linebacker), Chris Gamble (cornerback) and Ron Edwards (defensive tackle).
The Martin move was expected, one day after he confirmed that he tore the anterior cruciate ligament and medial collateral ligament in his right knee Sunday at Kansas City. Martin played in all 12 games this season, recording 25 tackles and two passes defensed in addition to posting five special teams tackles and forcing a pivotal fumble on a kickoff against the Philadelphia Eagles.
Applewhite missed the last six games with a right hamstring injury suffered in Week 7 against Dallas. Applewhite, who also missed a game earlier in the season with a knee laceration, recorded six tackles and a sack in five games.
The Panthers signed Bridges on Nov. 14. He saw limited action at right guard in Carolina's last two games.
Smith and Austin are no strangers to the Panthers' locker room.
Smith, a second-year pro out of Union College, has spent the entire season on the practice squad after leading the Panthers with 150 yards rushing in the preseason, including 85 yards in the finale.
"With Armond, we're excited to see what to what he can do on special teams as well backing up DeAngelo (Williams) with (Jonathan) Stewart's status still in question," Beane said. "We'll possibly look at him as a kick returner, and he can do some of the things on special teams that Sherrod was doing."
Austin, a second-year pro out of Clemson, was on the Panthers' 53-man roster for two games in October before being waived and then signed to the practice squad Nov. 6.
Addison is a newcomer to the Panthers but not to the NFL. As an undrafted rookie out of Troy in 2011, he played in three games with the Chicago Bears and three games with the Indianapolis Colts, recording six tackles.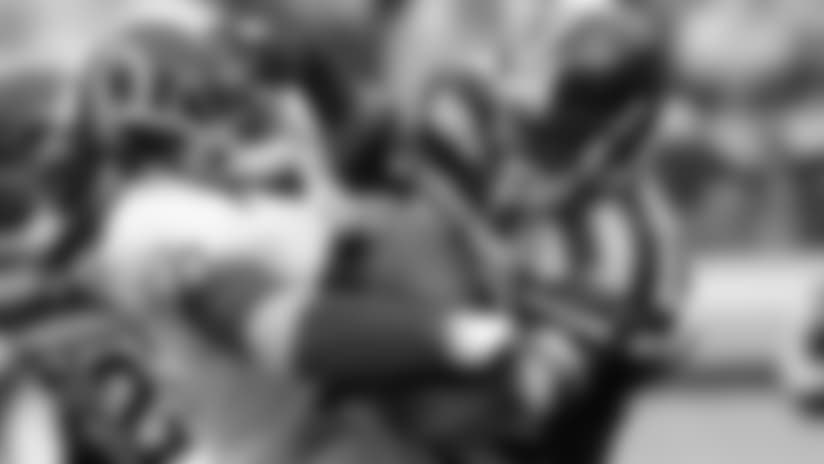 A 6-3, 257-pounder, Addison played in the Colts' first three games this season before joining the practice squad. The Redskins signed him off the Colts' practice squad, and he appeared in five games before being signed to the practice squad on Nov. 30.
"He caught our eye when we played the Redskins," Beane said. "He's a great special-teamer and a big defensive end that can run and cover kicks. He also can provide some third-down pass rush. We like his upside."
Carolina replaced Smith and Austin on the practice squad with cornerback Kendric Burney and guard Dominic Alford.
Burney, out of the University of North Carolina, spent the first month of last season on the Panthers' practice squad and ended the season on St. Louis Rams' practice squad, sticking with the Rams until the final roster cutdown this season.
Alford, from Minnesota, spent his entire rookie season in 2011 on the Cleveland Browns' practice squad prior to being waived in the final roster cutdown this season.