Before school let out for summer, the new guy squeezed in his first class:
Even Panthers Owner/Founder Jerry Richardson was excited to see Christian McCaffrey. For the first time in recent memory, Richardson watched practice from beginning to end, spending most of the session chatting with general manager Dave Gettleman.
Second-round wideout Curtis Samuel grabbed his right hamstring after running a route during individual drills. He then watched the remainder of practice.
Kelvin Benjamin ended his down-and-up spring with a solid effort. Early on, he kept this pass from hitting the ground while staying inbounds:
Then, during a team drill, Benjamin wound up across fifth-round cornerback Corn Elder, who gave up seven inches in that matchup. Seeing the mismatch, Derek Anderson threw a slant, which was behind Benjamin. But he reached back to grab it, and when Elder bumped into Benjamin, the rookie bounced right off before ending up on the turf.
Second-year wideout Keyarris Garrett quietly had a good week. He finished it with a leaping 15-yard grab in the corner of the end zone against defensive backs Teddy Williams and Colin Jones.
On the second play, defensive end Mario Addison did a good job keeping his contain on a read-option after Joe Webb faked a handoff to McCaffrey. "That ain't gonna work," yelled linebacker Thomas Davis.
Davis, whose practice gear usually consists of blues, blacks, whites and reds debuted an interesting look: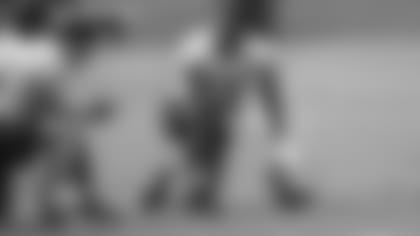 It was unclear who jumped when left tackle Matt Kalil and defensive tackle Kawann Short moved before a snap during team drills. According to Davis, who's not the most partial judge, it was Kalil. According to Ryan Kalil, who's also not objective, it wasn't his little brother.  "Hey, shut up, Thomas!," Ryan Kalil shouted while using his big brother voice. "Worry about your own guys!"
Not how you make the team: Taking an apparent swing at linebacker Luke Kuechly. That's what wideout Mose Frazier did before the two were quickly separated.
How you make a last-ditch attempt to stay around at least one more day: Frazier later burned the secondary to reel in a deep ball from Webb.
After head coach Ron Rivera released his guys for the summer, Davis broke them down. "Don't let it go to waste," he said, reminding his teammates the next six weeks aren't just a vacation. "We've got to get to that Super Bowl and we've got to win it."
View photos from the third and final day of Carolina's mandatory minicamp.