CHARLOTTE - Football is a game of adjustments, and the Carolina Panthers made some successful ones Sunday but not quite quickly enough to avoid a 16-10 loss at Tampa Bay to open their season.
One thing the Panthers won't adjust? Their high hopes for the season ahead.
"There's no reason to panic or do anything rash right now," Panthers head coach Ron Rivera said Monday. "This is our first real situation under fire, and we're a young football team. We had four rookies that played a key role for us. It's not like we're talking about a veteran team with five- and six-year starters all over the place.
"We're going to come out and do some things and make some things happen, and we're going to have some crazy things happen that we've got to be able to withstand. But right now, there's a lot of optimism for what we can become as a football team."
After studying film of the loss and getting a closer look at the mistakes made, Rivera came away feeling optimistic about his team's ability to adjust going forward, noting that the errors were of a correctable nature.
He cited the offensive line's struggles as an example.
"More than anything else, we had a couple of one-on-ones that we flat-out lost. The encouraging part is that can be corrected," Rivera said. "It wasn't anything schematically or something lacking in an individual; it was a player here, a player there and something that they did. I'm comfortable that we'll be able to correct and improve and get better."
One adjustment the offensive line had to make was to pass-block on nearly every down in the second half of the game. The Panthers trailed 13-0 at halftime, but it wasn't so much the score as it was the scheme the Buccaneers employed that necessitated an approach that netted 303 passing yards but just 10 rushing yards.
"They put eight in the box for the most part, almost as if they said, 'We're going to force you to throw the ball, going to force you to become one-dimensional,' " Rivera said. "If you try to pound it, the next thing you know it's second-and-12, second-and-10, as opposed to throwing the ball and having a chance to be second-and-5, second-and-4.
"We tried to make adjustments to what they did, and one of our adjustments was deciding to throw the ball."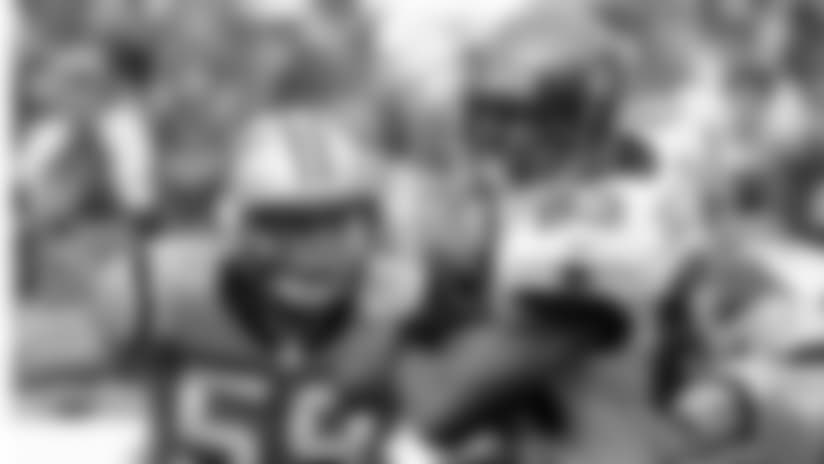 After a rough start, the Panthers defense did some dictating of its own, an encouraging sign from a unit that struggled much of last season. The Buccaneers didn't reach the end zone again after their opening drive, and Carolina allowed just 87 yards and five first downs in the second half.
"We did some good things, and we got better as the game went on," Rivera said. "Look at the adjustments we made after halftime. They were 3-for-5 on third downs in the first half; they were 1-for-7 in the second half.
"Jon Beason on the field, Thomas Davis on the field helps us. Ron Edwards and Dwan Edwards on the field helps us. There were some really good things that went on as far as the defense is concerned."
Three rookies played prominent roles on defense, headlined by first-round draft pick Luke Kuechly at weakside linebacker. Rivera said Kuechly struggled on his first few NFL snaps but shined from there, recording four tackles and paving the way for Beason to record a game-high 10.
Adjustments are always part of the deal with football, especially with young players, but Kuechly said the Panthers need to force their opponents to adjust after the opening kickoff rather than the second-half kickoff.
"We can't wait until we're down 13 and be like, 'Oh geez, we've got to start playing,'" Kuechly said. "It's got to be, 'Alright, we're going to set the tempo right now.'
"We know what we can do. We just have to get out there and do it."