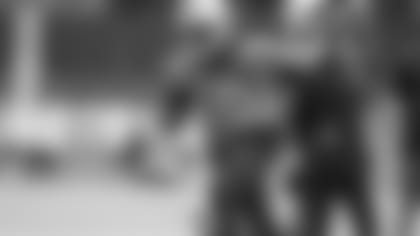 Wide receiver Curtis Samuel got a taste of team drills and made a nice reception on a comeback route. An encouraging sign. The former second-round pick's rehab from ankle surgery has gone very well. Here's more on that from head coach Ron Rivera: "We're trying to expose him a little more. Part of the rehab is getting him out there and doing the things that he needs to do to get himself healthy and ready to go. That was good to see. We increased some of his team reps early on and then shut him down. Hopefully tomorrow we can increase a little more or do the same thing."
Newton's nicest throw of the day came at the start of the first red zone perioe when he fired a strike to wide receiver Torrey Smith on a 'Bang 8' in the back of the end zone.
Another gem from Newton came in a later red zone period. He fit a ball down the seam and between two defenders to tight end Greg Olsen for the score. Newton helped himself to a little celebratory dance after that connection.
Rookie safety Rashaan Gaulden picked off an underthrown ball from quarterback Garrett Gilbert, who hasn't made many mistakes. Speaking of the backup quarterbacks, here's what Rivera had to say when asked if he thinks the No. 2 guy will come from the current group of candidates, namely Gilbert and Taylor Heinicke: "I think so. We've got some guys that have the kind of skill set we're looking for. Good arms, make good decisions – which we saw today."
Assistant coaches Richard Rodgers and Jeff Imamura have been splitting the responsibility of overseeing the secondary in the wake of Curtis Fuller's departure. Sounds like that will continue. "I feel good about them," Rivera said. "They've done a nice job. They are handling things very well, so we'll just continue with what we've got."
Best catch of the day? That honor goes to wideout Moze Frazier who laid out near the sideline for a tremendous grab. Receivers coach Lance Taylor quickly found Frazier to offer some deserved praise. This one-handed snag by rookie DJ Moore during individuals wasn't bad either:
Cornerback Ross Cockrell is still waiting for his opportunity with the first team, but he had a nice pass breakup on a pass for wideout Jamaal Jones, who had the ball in his grasp before Cockrell raked it away. A perfect example of "finishing."
A solid outing for kicker Graham Gano who nailed every kick he attempted, minus the last one, which clanged off the right post from 52 yards out.
Punter Michael Palardy threw two passes last season – an incompletion off a dropped snap, then another incompletion on a fake punt that drew an interference flag and earned a first down. The jury is still out as to whether the former high school quarterback instilled confidence in the coaches with that mixed bag, but he's still working on his craft. During some down time for the specialists, Palardy zipped three consecutive passes off the crossbar, backtracking each time and capping the trio with an impressive toss from the 35-yard line.
View photos from the fourth practice of organized team activities.