Cornerback James Bradberry left Monday's practice session after injuring his left wrist. Bradberry and linebacker Luke Kuechly dove for an errant pass toward the sideline. Kuechly secured the ball for an interception, but Bradberry stayed on the ground in pain after landing hard on his hand. Kuechly and several defensive backs huddled around the second-year cornerback as head athletic trainer Ryan Vermillion tended to him and taped the wrist. Bradberry smiled and gave Kuechly a fist-bump before hopping on the cart and heading inside for an X-ray.
Rookie wide receiver Fred Ross made the biggest offensive play of the day, hauling in a 40-yard touchdown pass from quarterback Joe Webb.
It's hard to evaluate running backs when there's no contact, but Cameron Artis-Payne had a nice day, earning praise from the coaches after making the right reads on a few inside runs.
Wide receiver Russell Shepard made a diving touchdown reception in the back of end zone. The quick slant route prompted defensive coordinator Steve Wilks to exclaim, "How'd he get inside!?"
Tight end Greg Olsen used his size and strength to hang onto a pass over the middle with Bradberry draped all over him.
Kicker Graham Gano ended the field goal period with a 53-yard conversion that earned high-fives all around.
Defensive backs coach Curtis Fuller and assistant defensive backs coach Richard Rodgers were sporting bright yellow T-shirts during team periods. Why, you ask? Well, Fuller and Rodgers stand behind the secondary, and the bright yellow color prevents the offense from mistaking them for defensive players in the box. As you can imagine, Fuller and Rodgers received plenty of comments about their new look.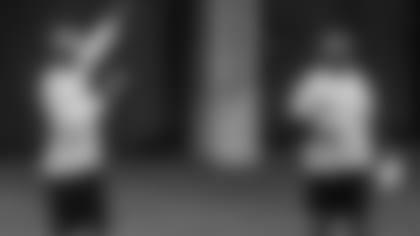 Tight end Scott Simonson used one hand to tip a pass to himself for a highlight-reel reception. Moments later, safety Brian Blechen got his hand in there to knock away a deep pass to Simonson.
Rookie fullback Alex Armah got a little ahead of himself when he was targeted in the flat during the red zone period, dropping a pass after he turned his head to look for the pylon.
Running back Fozzy Whittaker appears to be on pace to set a very unofficial record for receptions during OTAs. Every time you look up, Whittaker is turning up-field after making a catch out of the backfield.
There was still no sign of offensive tackle Michael Oher as the final voluntary week kicked off, but head coach Ron Rivera remains hopeful that Oher is working his way toward a return for next week's veteran minicamp to wrap up the offseason. "We'll see. It's mandatory," Rivera said. "There's been some communication and contact between, and we know he's working out. It's just a matter of seeing next week."
Defensive end Julius Peppers was again held out as a precaution while he deals with some soreness. "We're taking our time. There's no reason to have a 16-year veteran out there," Rivera said. "He comes in, gets his workout, goes through all the meetings. We just decided we're going to slow-play it. The biggest thing is we have a lot of young guys who really need a lot of reps."
Former Panthers offensive lineman and TV personality Jordan Gross stopped by to observe practice. The Gross family is preparing to move back to Idaho, where he was born and raised.
View photos from the third week of Carolina's organized team activities.