SPARTANBURG, S.C. – The Panthers made several roster-related moves on the eve of their first training camp practice.
In addition, Carolina placed tight end Brandon Williams (groin) and wide receiver De'Andre Presley (shin) on the physically unable to perform list. Williams and Presley can be removed from the list once they are healthy enough to practice.
Many expected Peters to be drafted following a productive career at Clemson. He had a solid debut at Carolina's rookie minicamp but then missed all four weeks of organized team activities with a hamstring injury, severely limiting the coaching staff's ability to evaluate him before other roster needs arose.
Wile originally signed with the Panthers as an undrafted rookie from Michigan on May 8 but was waived June 10. He served as a punter, placekicker and kickoff specialist during his college career and may be asked to help in all of those areas as the only backup kicker on the roster.
Capers, from Johnson C. Smith in Charlotte, was invited as a tryout at rookie minicamp in May but wasn't signed. He caught 136 passes for 1,554 yards and 13 touchdowns for the Golden Bulls.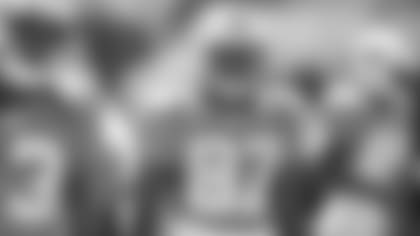 The Panthers don't have a roster move planned for another receiver, Stephen Hill, who received a drug paraphernalia citation Tuesday in Concord, N.C.
"I spoke with Stephen this morning at length. He's obviously very remorseful about what happened," general manager Dave Gettleman said. "He's a terrific kid. He's given us no indication since he's been with us in September that this is who he is. He was very professional and handled it very well.
"Right now, we're just going to let it go through the legal process. In speaking with Stephen, I told him, 'We're blessed to be in the position we're in, and it's our responsibility to handle that.' "
Head coach Ron Rivera said he didn't expect the charge to impact Hill's pursuit of a roster spot after the former second-round draft choice spent last season on Carolina's practice squad.
"He made a mistake. He knows it, and it's going to be corrected," Rivera said. "I know there are situations and circumstances we will let play out and see how they go. He'll have to deal with that process, and we'll react to whatever happens."
Rivera has been complimentary on multiple occasions of Hill's offseason progress, and Gettleman echoed that Hill still has an opportunity to end up on the roster.
"The best 53 players make our team," Gettleman said.