GLENDALE, Ariz. – The Panthers had so many sacks against rookie quarterback Kyle Murray and the Cardinals they actually lost count.
"Eight?! Sheesh!" rookie edge rusher Brian Burns said. "Hold on, let me count. So Mario (Addison) had three, Christian (Miller) had two…"
"Shaq (Thompson) and E. Reid both had one," defensive tackle Gerald McCoy interjected.
And Burns had one, bringing the grand total to eight during Carolina's 38-20 victory. It's the second-most sacks in a single game in franchise history.
"Everyone was flying all over the place. It was just contagious," Burns said. "Everyone was getting in on the fun."
The Panthers' front line came into Sunday's game knowing they create problems for Arizona in pass protection. And head coach Ron Rivera varied up the coverages, which seemed to give Murray trouble while giving the pass rushers time to get home.
"We mixed our coverages as much as we could, tried to give them different looks and confuse them a little bit," Rivera explained. "We did a couple things up front with some of our alignments that were different that really helped our guys as well."
Murray had already been sacked eight times through the first two weeks of the season, so there was an obvious vulnerability. The Panthers didn't necessarily expect to double that total on their own, but their plan worked to great effect.
And they did it all without Pro Bowl defensive tackle Kawann Short, who sat out with a shoulder injury.
"The mission this week was to overlap each other," defensive tackle Gerald McCoy said. "There were some great one-one-one wins, but it was about one guy flushing and then another guy collecting. We wanted to overlap to get this guy on the ground."
Added Addison: "We flushed him out and all worked together. And when we were in position, we capitalized."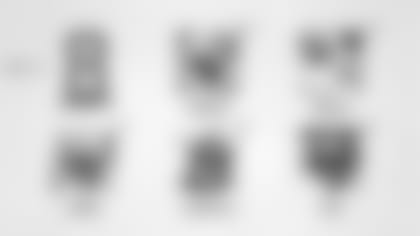 Murray is lightning quick, and he got loose a few times, evidenced by his eight rushes for 69 yards. But the Panthers were determined to use waves of pressure to both contain him and create negative plays.
"He's fast," Burns said, "but if you've got multiple people, if you've got numbers to the ball, you can't beat it."
And when a quarterback is feeling the heat, the defensive backs start to salivate. Cornerback Donte Jackson was the beneficiary on Sunday, reeling in a pair of second-half interceptions on errant passes.
"Those guys can't get enough credit," Jackson said of Carolina's pass-rushers. "All week they were practicing their asses off. They knew they had to get to the quarterback; they knew the type of guy we were up against.
"We trusted those guys. We told them we were going to play great coverage on the back end. I had two interceptions because of the rush. It had nothing to do with me. He was scared of the rush. He didn't want to get hit anymore."
Scary thing is, even after a feast like that, the Panthers felt they left some plays on the table.
"We played well, but to be honest, we left so much out there," McCoy said. "That could have been a 10 or 15-sack game."
Saving some for next week against Houston isn't a bad idea. But we all know eight-sack outings like the one the Panthers just produced don't come around often in this league.
"Well probably the biggest thing we've got to do is be able to go out and do it again," Rivera said. "We'll start getting ready for our next opponent and believe me, they're not going to give up eight sacks."
That won't stop 'em from trying.
"The message from me and Rio pregame was, 'We haven't had that stamp game to show who we really are. We hadn't had that game yet where we take over and dominate.' This was the game," McCoy said.
"And sometimes one game like this is all it takes."