Do you think the Carolina Panthers will finish the season on a high note? – Malcolm in Charlotte
Signs certainly point to the Panthers trending up as the season begins to wind down. They'll be looking for their third victory in five games Sunday at Kansas City.
The other five NFL teams with the same or a worse record than the Panthers (3-8) have been outscored over the course of the season by 107 points on average. The Panthers have been outscored by 51 points. They could come close to finishing even in points and hope to make a run at evening their win-loss record as well.
---
Will the Panthers make a turnaround next season? – Randall in San Diego
Referring back to the previous question, the effort to turn things around is already under way.
Entering the season, a common school of thought was that given the explosive nature of the offense in 2011, the Panthers would be playoff contenders if the defense showed some improvement.
The defense has done just that, but the offense hasn't repeated last year's performance. But it appears that Cam Newton and Co. are turning the corner, setting the stage for 2013 to be the year that the offense and defense both perform at a high level on a more consistent basis.
---
Out of all the positions where do you think the most work is needed? Where could you see the first-round draft pick going? – Andrew in Wilmington
The Panthers obviously need to make improvements between this season and next, and they'll spend the months that follow the final game figuring out a plan.
Of all the position groups, the secondary appears to be in the biggest state of flux. Charles Godfrey has been a constant at strong safety, but Haruki Nakamura and Sherrod Martin have been in a time share at free safety. At corner, proven veteran Chris Gamble started just four games before landing on injured reserve with a shoulder injury.
That's not to say the Panthers will pick someone for the secondary in round one of the April draft. There are way too many variables to make such a projection.
---
His rookie year, David Gettis led the Panthers in receiving yards. Now that he is not injured anymore, why not see what he can bring to the table? I feel like he is our most talented young receiver. – Timothy in Manhattan, Kan.
He's not injured, but he isn't at full strength, either. Gettis came off the physically unable to perform list and saw some snaps in Week 10 against Denver, but head coach Ron Rivera said that he may have brought Gettis back a little early.
There aren't many scenarios where the Panthers can activate six receivers on game day, and Armanti Edwards and Joe Adams have been the fourth and fifth receivers (and kick returners) the last two games. The Panthers haven't given up on Gettis, but at this point they want to give him every opportunity to be truly up to speed before they put him back on the field.
---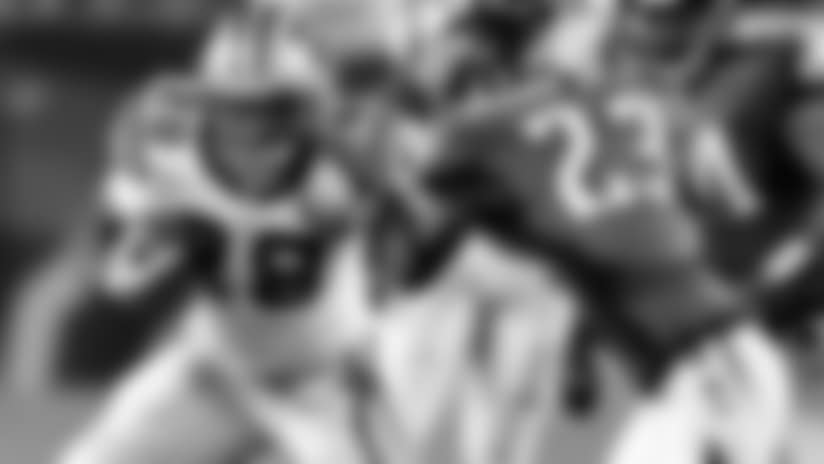 What's so special about the yellow shirt that Jonathan Stewart has always worn under his jersey? – Ashley in Mamers, N.C.
As you might guess, the yellow is from his days at the University of Oregon, but it isn't a shirt you're seeing. Throughout his NFL career, Stewart has sported the same shoulder pads he wore as a Duck.
"I took them from college, and I've been wearing them ever since," Stewart said. "I just didn't want to switch my pads. It's a comfort thing."
---
What's going on with Tauren Poole? Do we still have him? – Chris in Summerville, S.C.
First off, belated happy birthday to Chris, who also sent me an email telling me the Panthers made his birthday by beating the Eagles.
Poole, a rookie running back out of Tennessee, can be spotted around Bank of America Stadium here and there. He was placed on injured reserve after a strong preseason with a rib injury.
"I feel 100 percent, but of course I haven't taken any hits, haven't been twisted, so I don't know how that will impact me," Poole said. "But I feel good. I'll just have to finish this season on IR and then see what happens next season."