CHARLOTTE – Offensive coordinator Mike Shula played no part in one of Carolina's biggest offensive plays against the New England Patriots on Monday night.
It's third-and-seven from the Panthers' 37-yard line midway through the third quarter. Carolina lines up in shotgun formation with three receivers split right.
Quarterback Cam Newton takes the snap and looks for wide receiver Brandon LaFell, who is well covered.
So Newton improvises. And when Newton improvises, good things tend to happen.
He gets away from linebacker Rob Ninkovich's initial sack attempt and runs right. Then he jukes Ninkovich again. Then he jukes defensive end Chandler Jones and sprints left.
Linebacker Dont'a Hightower finally drags Newton down at midfield after a jaw-dropping 14-yard gain.
"You kind of shake your head, because there is nothing you did as a play-caller," Shula said. "You're just happy that he's on your side."
Shula's play call may not have gone as planned, but the offensive coordinator joked that he may have inspired Newton's highlight reel scamper.
"He finally watched some tape of me when I was in college against Memphis State," Shula said. "He tried to mimic that. I think I gained 14 yards on that. I think it was against man coverage, too."
The Panthers' final possession went exactly as planned for Shula, Newton and the entire offense. Newton completed 5-of-8 passes and ran for 18 yards during the game-winning possession that was capped by a 25-yard touchdown pass to wide receiver Ted Ginn with 59 seconds left.
"Just from watching (the final drive) upstairs, Cam looked poised. He looked comfortable," Shula said. "His eyes were in the right place, looking at the right things. Mechanically, I thought he was doing everything right."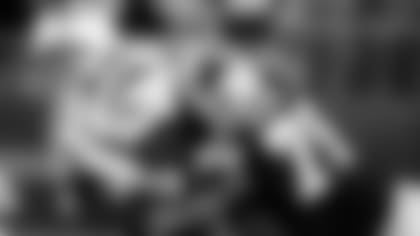 DEFENSE EXECUTES WHEN IT HAS TO: With three seconds left and the game on the line, the Panthers defense was ready for what was coming.
"We thought we knew what they were going to do. That's what they did," defensive coordinator Sean McDermott said. "We were in position."
Quarterback Tom Brady targeted tight end Rob Gronkowski down the middle in the end zone.
"We were in a split-safety coverage that was meant to help on Gronkowski the way the formation came out," McDermott said.
Linebacker Luke Kuechly ran with Gronkowski, and safety Robert Lester was underneath to intercept a severely underthrown pass from Brady.
It was one (albeit the biggest one) of several key stops for the Carolina defense.
McDermott pointed out a third-and-four play from the Panthers' 40-yard line in the first quarter, where defensive end Greg Hardy sacked Brady for a 4-yard loss.
"They were right on the edge of field goal range. That's a point swing," McDermott said.
So to was Carolina's fourth quarter stop on third-and-one from its own 8-yard line – a stop that forced New England to settle for a 26-yard field goal and a 20-17 lead.
"We came up with the stops when we needed them," McDermott said. "Some of those things don't show up in the box score but make a huge difference."
The Panthers defense was clutch, but McDermott made it clear Monday night's performance wasn't perfect.
Carolina surrendered consecutive 80-yard scoring drives to start the second half to allow New England to tie the game at 17.
"The third quarter I wasn't happy with at all," McDermott said. "We've got to tighten some things up on our end, we really do. By no means have we arrived defensively."