CHARLOTTE – How much will the Panthers' starters play in Week 3 of the preaseason against the New York Jets?
Head coach Ron Rivera offered a rough estimate after practice Wednesday.
"Probably looking into the third quarter," Rivera said. "Ideally, we try to put a number on anywhere between 36 and 45 (plays). You feel really good about that, especially if you play well.
"And depending on how well they're playing it could be more, it could be less."
Rivera's decision on first-team playing time will come as a result of what he sees on the field.
"If (the starters) played 36 good plays and we did a lot of good things like the other night (against Miami), we'll pull them out," Rivera explained. "If we don't play 36 good plays and we say, 'Let's go one more series,' we'll go one more series."
Rivera knows his players will be eager to perform in front of a national audience, even if it is preseason.
The Panthers-Jets contest will air on NBC's Sunday Night Football broadcast. It's a matchup and a road environment that Rivera is looking forward to.
"This is a great challenge for us," Rivera said. "This is a good program. Two of the last three years the Jets went to the AFC Championship game. I'm excited about the fact that we are going to be on the big stage. Sunday Night, major prime time game for us in the biggest city in the United States. We're pretty excited about the opportunity."
When asked if he feels the prime time opportunity carries a certain number of expected first-team snaps with it, Rivera insisted that won't play a role in determining the lineup he sends into action.
"I don't feel an obligation to play our starters for a specific number," Rivera said. "Our obligation really comes when we play September 9. That's the most important thing."
---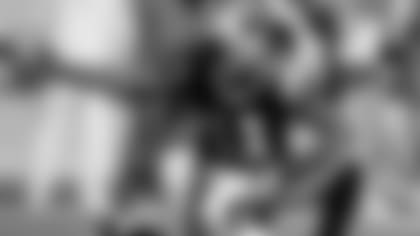 LaFELL CONTINUING TO PUSH: Wide receiver Brandon LaFell has reached a certain comfort level working with quarterback Cam Newton, but he never allows himself to get comfortable on the practice field.
"This is our second year in the offense, so at this point Cam pretty much always knows where me and Smitty (Steve Smith) are going to be at any given time," LaFell said. "We also know what he can do. A play is never over because he can extend the play for like eight or 10 minutes."
Newton's ability to keep plays alive isn't the only reason LaFell doesn't take breaks. He's currently holding down the No. 2 receiver job opposite Smith, but he understands how tenuous that can be given the depth of talent the Panthers possess at the spot.
"There are no days off around here," LaFell said. "You've got a lot of competition behind you and in front you, so you've got to come out here every day with the mindset that you've got to get better.
"One day off, one slack day, and you're splitting reps with a guy."
---
GETTIS GETTING THERE: One of the receivers aiming to battle LaFell for reps is David Gettis.
It's been more than a year since Gettis last played. He spent the entire 2011 season on injured reserve after suffering a torn left anterior cruciate ligament during a training camp practice.
He's missed all of training camp this year due to a hamstring injury.
But Gettis has been steadily working toward a return to the practice field, and he hopes to make it back in time for some preseason action.
"I want to a play a preseason game to get the rust off. I haven't played in a year, so I definitely need that," Gettis said. "I'm working hard to get back as soon as possible. But at the same time I don't want to rush it."
It's been a frustrating time for the third-year wideout, but Gettis is hoping his patience and persistence will pay off once he's cleared medically.
"It's my job to get healthy and prove myself," Gettis said. "It's hard to be patient sometimes, but you just have to let everything take its course."
---
INJURY NOTES: Linebacker Thomas Davis' workload continues to increase as he recovers from a calf injury. In addition to special teams, Rivera said David spent some time with the first-team defense and several sub-packages Wednesday. Davis will likely make his preseason debut Sunday. ... As for Jon Beason's hamstring injury, Rivera said the linebacker is taking it slow. "It's taking a little bit longer than you'd like it to," Rivera said. "We're being a little more cautious than we probably need to be. We'd rather err on the safe side." ... Wide receiver Steve Smith did not practice Wednesday due to a minor foot infection.
---
Senior writer Bryan Strickland contributed to this report.