CHARLOTTE – 15th in points per game. 19th in yards per game. 20th in yards per play and first downs per game. 23rd in third-down conversion rate.
The Kansas City Chiefs' offensive statistics don't jump off the page, yet they enter Sunday's game at Carolina with a 6-2 record and have won 16 of their last 18 games.
"The Chiefs are a very good football team," linebacker Thomas Davis said. "You see some of the things they've had to deal with from an injury standpoint, arguably not having their best defensive player (linebacker Justin Houston) all season long and to still have the record they have, and then you look at them losing their starting quarterback (Alex Smith), losing their starting running back (Jamaal Charles) and a backup running back (Spencer Ware) and still being able to go out and win football games.
"I think that really speaks volumes to what kind of football team they have."
The Chiefs offense may not be flashy, but they've shown an ability to come through in key moments and they've proven they value protecting the football. Their seven giveaways are third-fewest in the NFL.
That's allowed them to overcome the aforementioned injury issues, but they'll have their quarterback back this week.
Smith is expected to return after missing the Week 9 victory against the Jaguars with a head injury. The former No.1 overall pick is a threat with his arm and legs.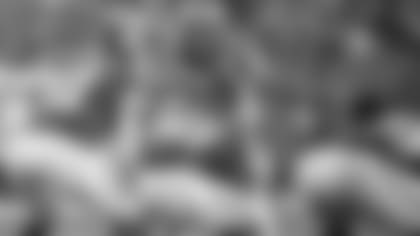 "He had a very good career at Utah, and then when you see some of the things he did when he was in San Francisco, he's a pretty impressive runner," head coach Ron Rivera said.
Added linebacker Luke Kuechly: "He's smart with the football. He's got good command of what they're doing. And he's athletic enough and fast enough to make you pay with a big gain."
Carolina's pass rush – which has produced 12 sacks in the last two games – will play an important role in squelching that scrambling threat.
As always, the defensive plan starts with eliminating the run game. The Panthers, who boast the league's third-best run defense, will look to continue that success against a Chiefs attack that has struggled to run the ball consistently, ranking 21st in yards per game.
But regardless of what the stats say, the win-loss record tells the Panthers everything they need to know about their next opponent.
"They're still finding ways to win. That's the one thing they're capable of doing is finding ways to win. That's the one thing we have realize," safety Michael Griffin said. "We have to go out there and play a four-quarter game, play a complete game."
View photos of Carolina's week of practice leading up to their game against Kansas City.