NEW ORLEANS – In a season filled with all sorts of adversity – both on the field and off – it seemed fitting that the Panthers faced some more in the finale against the New Orleans Saints.
Despite building a 10-0 second quarter lead, the Panthers trailed 24-13 in the third quarter. Saints linebacker Jonathan Vilma intercepted a screen pass for an 18-yard touchdown late in the first half and tight end Jimmy Graham hauled in a 19-yard touchdown shortly after halftime.
The noise inside the Mercedes-Benz Superdome intensified, and the Saints were harnessing all of the game's momentum. It was an 11-point deficit and the type of adverse situation the Panthers failed to overcome earlier in the year.
"It could have gone the other way," head coach Ron Rivera said, "but it didn't."
The game turned. The Panthers went on to score 28 unanswered points en route to their fourth straight win, a 44-38 victory that allowed them to finish second in the NFC South.
"Early on in this season prepared us for that moment; having to go through the adversity that we went through," linebacker Thomas Davis said.
The turning point came after tight end Greg Olsen's third quarter fumble.
Carolina had the ball following Graham's touchdown and on the second play of the drive, Olsen made a one-handed catch near the sideline. But the ball came loose on his way to the ground, and cornerback Johnny Patrick returned it to the end zone.
The play was whistled dead as Olsen was ruled down by contact, and New Orleans challenged the ruling.
Review showed that safety Roman Harper had forced Olsen to fumble, but the officials could not conclusively determine if Patrick had secured the recovery inbounds.
Carolina maintained possession at its own 23-yard line.
"I dodged a bullet there. That was big," Olsen said. "I tried to spin back and keep the play alive, and he just knocked it out and I couldn't re-grab it. Thankfully, the guy was out of bounds.
"You just hope it goes your way, because it's not nice to be on the wrong side of those plays. It is nice to catch a break – and I'm not going to apologize for us catching a break finally this year. We took advantage of it."
On the ensuing third down – which became third-and-18 following a holding call on center Jeff Byers – quarterback Cam Newton connected with wide receiver Louis Murphy down the right sideline for a 34-yard gain.
On the next play, running back DeAngelo Williams – who ran for a franchise record 210 yards on 21 carries – broke free for a 54-yard touchdown run.
Instead of trailing 31-13, the Panthers were down four with just under nine minutes to go in the third quarter.
"You need something good to happen every once in a while and something good did happen," Rivera said. "We took advantage of it and made a play, and then another play and we kept it going."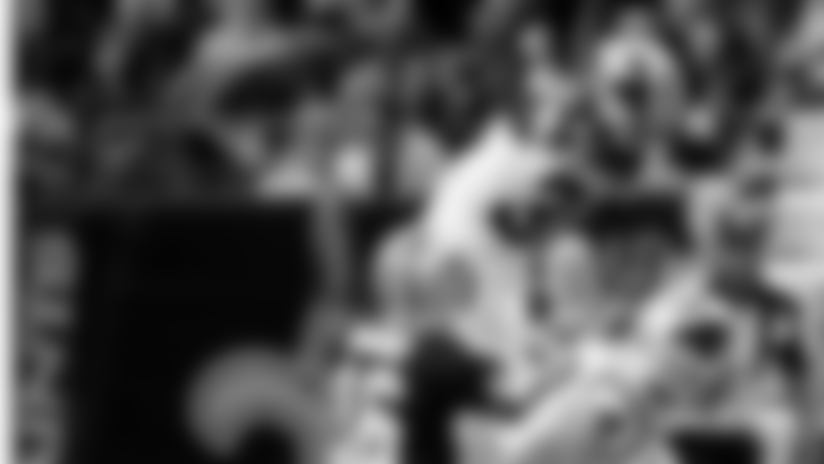 After both teams punted, the Saints took over on their 20. Two plays later, safety Charles Godfrey recorded Carolina's one and only takeaway.
Godfrey – who's only other interception this season came against the Saints in Week 2 – intercepted Drew Brees' pass for wide receiver Lance Moore at the New Orleans' 36-yard line. Godfrey called it a "deep bubble route" and he was ready for it.
"I pride myself on watching film and I'd seen that over and over," Godfrey said. "I knew it was coming and just made a play on the ball; it's nothing spectacular or out of the ordinary. Our D-line did a great job forcing him to throw that ball."
After a 31-yard pass from Newton to Steve Smith and a 4-yard run from Williams, fullback Mike Tolbert plowed into the end zone for his second 1-yard touchdown, giving the Panthers a 27-24 lead with 2:29 left in the third quarter.
Early in the fourth quarter, backup quarterback Derek Anderson was called into action for the first time since Week 3.
Defensive end Turk McBride hit Newton after he released a pass for Murphy, and the quarterback's ankle twisted under McBride as he was brought to the ground.
Newton slowly made his way to the sideline and was examined by trainers while Anderson came in for third-and-2. The Panthers picked up a first down when Murphy drew defensive holding.
Anderson later converted a third-and-4 with a 12-yard completion to Brandon LaFell.
Newton then returned for first down from the New Orleans 12-yard line and after he completed an 11-yard pass to LaFell, Tolbert recorded his third 1-yard score.
"Thank God everything was functioning well and I was able to come back in the game," Newton said. "D.A. did an excellent job coming in and moving the ball, putting us in a position to put the ball in the end zone."
The Carolina defense then forced a three-and-out, and Armanti Edwards returned the punt 69 yards before punter Thomas Morstead forced him out at the New Orleans 12-yard line.
Williams ran for his second touchdown on the next play, and the Panthers led 41-24 with 8:23 left in the game.
Following Saints wide receiver Marques Colston's second touchdown, Jordan Senn recovered the onside kick for Carolina, and moments later Graham Gano converted a 42-yard field goal.
Darren Sproles turned a screen pass into a 33-yard touchdown with 2:52 left, but the ensuing onside kick went out of bounds and Carolina ran off the remaining time.
"We came into this game hot, winning three straight games and we knew in order to get a fourth game under our belt we'd have to overcome some adversity," Davis said. "With us being down 11, as a team we did it together to finish this season off right."