CHARLOTTE – Now that's what we've been waiting for.
The Carolina Panthers posted the kind of performance Sunday that became routine in 2015, the kind of performance that many expected to again be the norm in 2016.
What took them so long? Hard to say.
Is it too little, too late? Wait and see.
"We had done some good things and feel like we are better, but you are what your record says," head coach Ron Rivera said after Sunday's 30-20 victory over the Arizona Cardinals. "We've been close a couple of times, and a couple of times we haven't played to our abilities. Today we played to our abilities, and we had some better things happen for us."
The Panthers looked like the team that rolled Arizona in the NFC Championship 49-15 nine months ago, but they rarely had looked anything like that team before Sunday.
Carolina entered play with a shocking 1-5 record, a fall from the top that made Sunday's showing seem shocking for its dominance. Now the next step is to bottle all the good from the victory, then unleash it again Sunday at the Los Angeles Rams – and the Sunday after that and so on – as the Panthers try to battle back into the playoff race.
"Those first six games are behind us at this point," cornerback Daryl Worley said. "We're working for these next 10 games and hoping to have a positive result in all 10 of them."
The Panthers chipped away at their deficit in the NFC South last weekend even though they didn't play, watching division leader Atlanta allow a 17-point lead to slip away against San Diego.
But Carolina made even more important gains on either side of their bye weekend, using the extra time before the break to identify their issues, then using the time after the break to put their findings to work on the practice field.
They thought had they figured out some things, but there was no way to truly know until game time.
"We've got to understand that there's a reason we played the way we did today. It goes back to our preparation. This doesn't just happen," tight end Greg Olsen said. "It's going to take that same consistent effort each week to put ourselves in position for success.
"We beat a good team today, and we're going to have to beat good teams to get out of the hole we've put ourselves in."
The Panthers began what they hope will be a triumphant climb out of their deep hole by getting off to a fast start and getting back to the things that made them so successful last season.
The defense has struggled to consistently pressure the quarterback and to force takeaways. Both were back on the sixth snap of the game, when defensive tackle Star Lotulelei sacked Cardinals quarterback Carson Palmer and forced a fumble at the same time, a loose ball that linebacker Thomas Davis returned 46 yards for a touchdown.
The offense has struggled with slow starts, but that was taken care of with touchdown drives of 75 and 65 yards over the course of Carolina's first three possessions.
Early in the second quarter, it all added up to a 21-0 lead.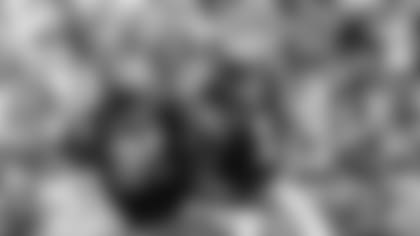 "It was great to have a performance like we did today with defense, offense and special teams," quarterback Cam Newton said. "We've just got to keep putting it together. It was a great win, but we've just got to keep finding ways to get this feeling moving forward."
That winning feeling felt like it had no end last season, when the Panthers won their first 14 games and rolled through the playoffs before falling in Super Bowl 50. More of the same was expected this season, but it took until Week 8 to recapture that form.
Sunday, the Panthers put the fun back in football. They hope to have more fun in the coming weeks.
"This is huge. It's something you can build momentum off of," Rivera said. "We've got to continue to roll."
View game action photos from Carolina's 22-19 win over Arizona.