CHARLOTTE – Terrace Marshall Jr. never doubted that it was a catch. It just wasn't a conventional one.
Marshall clenched his body as an 18-yard pass from Sam Darnold hit him right in the torso. He snapped the ball between his legs and kept control while rolling on the turf at Seattle's Lumen Field. And he knew he didn't let that ball touch the ground.
"It was a great catch," Marshall said. "(I) just felt the ball between my legs, started squeezing, and just grabbed it as soon as I could.
"(It was) an in-the-moment type thing; staying focused throughout the whole play."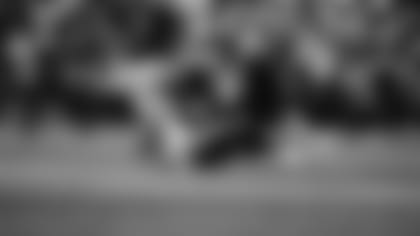 Marshall's teammates watched the catch in amazement, and once Seattle challenged the completion ruling, fellow wideout Shi Smith went on about the effort for about five minutes on the sideline.
"I ain't never seen nothing like that live with my own eyes," Smith said. "It's always been like another person on TV or something like that. Man, it was crazy."
Darnold couldn't believe it himself, so he insisted on getting the details from his receiver.
Marshall, fondly nicknamed "Moo" in the locker room, isn't known for being a chatterbox. Darnold grinned as he recounted the post-catch story, peppered with sincere and short replies from his second-year pass catcher.
"You know Moo, he gave me a simple answer – 'I got it,'" Darnold said. "I asked him, did he catch it? And he looked at me like, 'What are you talking about?' … Then I looked up at the jumbotron, and I was like, 'How did you catch that thing?' And he was just like, 'I don't know, man; I just make it happen."
Panthers receivers had some acrobatic efforts to extend plays against the Seahawks, putting some highlights on tape and helping keep the offense rolling in a harsh environment at Seattle. And it especially paid off on a day when top wideout DJ Moore finished without a catch, since they needed someone else to make a play.
Laviska Shenault Jr. led Carolina's pass catchers in Seattle, catching all four targets for 31 yards.
Shenault's catches included a long reach to grab a screen pass behind the line of scrimmage as the ball grazed his fingers. He secured the ball as he fell to the turf but popped back up to gain 5 yards on second down, setting up for a third-and-short.
It wasn't the only play where Shenault made headway after going down or powered through tackles. He took hits against the Seahawks and hasn't been afraid to push forward after the catch, traits he said he feels are appreciated by teammates and coaches.
"You've got to be tough," Shenault said. "You've got to be a dog to have the type of style I have. … That's just me. I don't know another way to play."
Steve Wilks praised the receivers for their improvements since he took over as interim coach.
"Since I've been in this position, I've seen the development and growth in that receiver room," Wilks said. "Those guys are constantly getting better each and every practice, which shows in the game. Terrace, I'm proud of the way he's stepped up this year. Laviska continues to just do great things for us in so many different facets. We've just got to continue to find ways to get those guys the football."
Smith hauled his first career touchdown catch in the first quarter against Seattle, keeping his cool without a large end zone celebration as the Panthers quickly went up 10-0 following a Jaycee Horn interception.
But Smith said the wideout room is full of guys who love to dance, and they've floated around the idea of coordinating a group touchdown celebration. Shenault, who has come up with dances for his touchdowns this year, would be the one to choreograph, Smith said.
The Panthers' receivers are an eclectic bunch that goes from big personalities to more subdued demeanors, but they've found unity in celebrating each other.
Smith and Shenault agreed that matching their teammates' efforts on the field and playing for each other has helped the unit improve into the season.
"When the coaches are asking us to do something, we just go out there, and we do it," Shenault said. "I think playing for each other is a big thing because you don't want bad energy around. Good energy, good things happen. (If you're) positive, positive things happen. That's big, picking each other up and congratulating each other without feeling some type of way. We're all trying to do the same thing at the end of the day."
View photos from Wednesday's practice as the Panthers prepare to take on the Steelers.