PITTSBURGH – With the large majority of the Panthers' starters not even putting their helmets on, many fans might have looked at the final preseason game as unimportant.
Others had a decidedly different view.
"I looked at it as an opportunity," said Panthers running back Tauren Poole, one of about three dozen players battling for the last dozen or so roster spots. "Coach talked about it all week, and that's how I approached the game – trying to show some flashes. Hopefully I did that, and hopefully I'll still be here. That's the hope. That's the plan."
Poole, an undrafted rookie from Tennessee who missed the last two games due to a concussion suffered in practice, responded with four receptions for 37 yards along with 30 rushing yards. His top competition for a running back roster spot, Armond Smith, gained 85 yards on 16 carries, including five rushes of 11 or more yards.
"There were some things I could have done better, but as far as the run game, I made the most of my opportunities," Smith said. "I kept running hard and ran the way the plan was designed. I didn't dance; I cut and went."
"Cut" is a scary word around the locker room right now. The Panthers have until 9 p.m. Friday to trim the 75-man roster down to 53 in anticipation of the regular season opener.
Panthers head coach Ron Rivera and general manager Marty Hurney have said their difficult decisions will be based on players' overall body of work, but last impressions still can leave a lasting impression.
"Marty and I will sit down and we'll talk with the coaches," Rivera said. "We'll review this tape and talk about who are our best 53."
When they watch the tape of Thursday's 17-16 loss to the Pittsburgh Steelers, they'll see a lot of players on the bubble that tried to do everything in their power to help themselves.
Here's a look at some of the performances.
---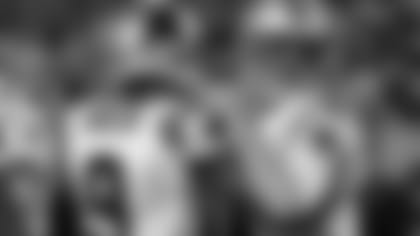 WIDE RECEIVER: It's not that surprising that arguably the most contested position throughout the preseason would feature multiple players making a splash.
Rookies Jared Green and Lamont Bryant found the end zone in the second half via Jimmy Clausen passes, Green scoring on a 3-yarder and Bryant hauling in a 79-yarder late in the game.
Veteran Armanti Edwards came up with a pair of receptions for 32 yards. He was targeted six times.
"The effort was there, but there were some big plays, some contested catches that I should have had," Edwards said. "I've just been focusing on myself, not trying to worry about anybody else."
Does Edwards believe he's secured a roster spot?
"I don't know," he said. "I'll go home and relax with my family. If I get a phone call, I get one. If I don't, great."
---
LINEBACKER: Veteran Jason Williams strengthened an already strong case for a roster spot with a game-high 10 tackles, but he knows nothing is a sure bet given the Panthers' depth at the position.
"Our room is stacked," Williams said. "Hands down, we have one of the most dynamic linebacking corps in the league. It's going to be interesting to see how everything unfolds."
Jason Phillips continued a strong preseason with a half-dozen tackles, including impressive stops on back-to-back screen plays. Kion Wilson added six tackles, but it's often a mixed bag with the borderline players as he also got beat on a crucial 29-yard reception.
---
DEFENSIVE LINE: Defensive end Thomas Keiser, arguably the defensive MVP of the preseason (along with rookie linebacker Luke Kuechly), continued to shine with a sack, two tackles for loss and a batted pass.
Defensive tackle Ogemdi Nwagbuo and defensive end Ryan Van Bergen – a veteran from Michigan State and a rookie from Michigan - made their final cases for roster inclusion. Nwagbuo recorded four first-half tackles, while Van Bergen's three tackles included a nice stop on a third-and-short play.
---
OTHERS: In a mostly quiet night for the secondary, safety Reggie Smith had a nice pass break-up one game after coming up with an interception and a key pass defense. … Tight end Joe Jon Finley was Clausen's most consistent target late, finishing with four catches for a game-high 57 yards.