CHARLOTTE – With the offseason signings of Roman Harper, Thomas DeCoud and Antoine Cason, the Panthers added 20 seasons of NFL experience to their defensive backfield.
By drafting defensive backs Tre Boston and Bene Benwikere, the Panthers added a pair of players that have barely been alive for 20 NFL seasons.
But in meetings led by secondary coach/passing defense coordinator Steve Wilks, the veterans and rookies find themselves on equal footing.
And it isn't just a matter of Wilks trying to treat all of his players the same; it's a matter of players old and young yearning to learn.
"One of the things I talk about in my meeting room, particularly this time of the year, is, 'Learn as if you don't know,'" Wilks said before the Panthers began their pre-training camp break. "I don't care if you're Roman Harper, who's been in the league awhile, has won a Super Bowl and is a Pro Bowl player. When we get in there, learn as if you don't know.
"I've got an analogy that I talk about all the time: 'Are you green?' Back in the day, that meant you don't know a lot, but here, green means you're always growing. We want to stay green so that we're always learning, always growing. I always challenge guys in that way."
It's no surprise that Boston and Benwikere are all ears in meetings, especially after Melvin White and Robert Lester made considerable contributions to the Panthers secondary last season as undrafted rookies.
"I've gotten a lot of knowledge and information transferred into me," Benwikere said. "The coaches did a real good job of breaking things down so that I could understand them real fast.
"In college, you can make plays off of straight athleticism. They tell you in college why you do things, but you don't always have a full understanding. These coaches do a great job of telling you why you're playing a certain technique and how it benefits you."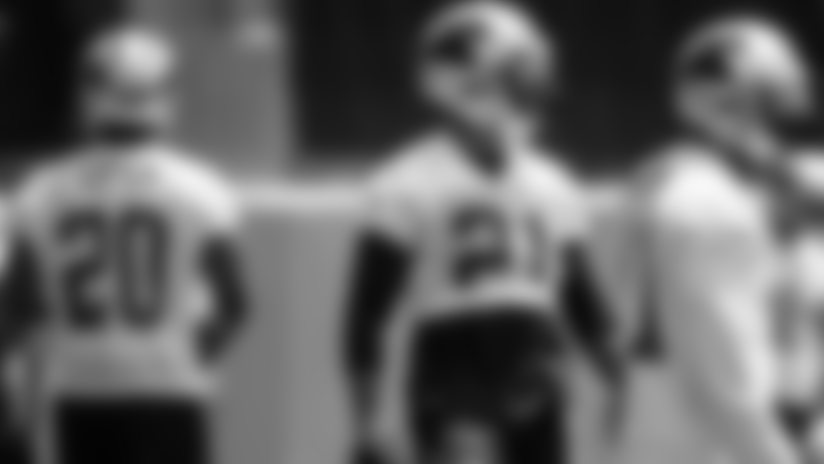 On the other hand, it wasn't a given that the veterans the Panthers added would be as open to being taught at this point in their careers. But when Cason, a cornerback entering his seventh NFL season, was asked after an organized team activity how things were going with his new team, he cut right to the chase.
"Things are going well.  There's a really good atmosphere out here," Cason said. "For me, I'm just happy to be here every day, happy to come out here and grind, happy to work, happy to get better. What can I do to get better? What can I do to help this team? That's my approach."
The words were somewhat surprising at first blush coming from a seasoned veteran, but then Harper, a safety entering his ninth season, had his turn.
"You have to get better every day," Harper said. "If you are not getting better, you are getting worse. Everybody says the cliché, but it is very true. You can't take a day for granted."
Last season, a secondary featuring chip-on-their-shoulder players like Mike Mitchell and Captain Munnerlyn helped the Panthers rank second in the NFL in total defense. The position group underwent significant turnover in the offseason, but the secondary appears poised to pick up where it left off thanks to a workmanlike attitude fanned by Wilks.
"These guys have quite a bit of experience, and they understand what it means to be a pro," Wilks said. "To have those guys in the room is a big help to me because they're an extension in the locker room of what I'm saying.
"We're going in the right direction."