CHARLOTTE - Jeremy Bridges, who started 28 games on the right side of the Panthers' offensive line from 2006-08, has re-signed with the team.
To make room for Bridges, the Panthers have placed defensive end Thomas Keiser on injured reserve with a hyperextended left elbow.
From 2009-11, Bridges played in 48 games with 16 starts for the Arizona Cardinals from 2009-11. The 6-5, 318-pounder suffered torn ligaments in his thumb in the preseason, and the Cardinals waived him from injured reserve with an injury settlement on Nov. 5.
A sixth-round draft pick of the Philadelphia Eagles in 2003 from Southern Mississippi, Bridges started 14 games at right tackle for the Panthers in 2006, 10 at right guard in 2007 and four at right tackle in 2008.
"We're familiar with him, and a lot of our players have played with him," interim general manager Brandon Beane said. "Jeremy is a versatile player. He can play right guard or right tackle, so he can help us at multiple positions."
In nine NFL seasons, Bridges has played in 110 games with 55 starts. The Panthers' current starters on the right side of the line -- Byron Bell and Jeff Byers – have combined for 32 games and 23 starts.
The right side of Carolina's line has been in flux since center Ryan Kalil went on injured reserve following the fifth game of the season and right guard Geoff Hangartner shifted to center.
The Panthers initially moved Bell from right tackle to right guard and used Garry Williams at right tackle for one game. The last three games, Bell has been at right tackle with Byers at right guard – Byers' first three career starts.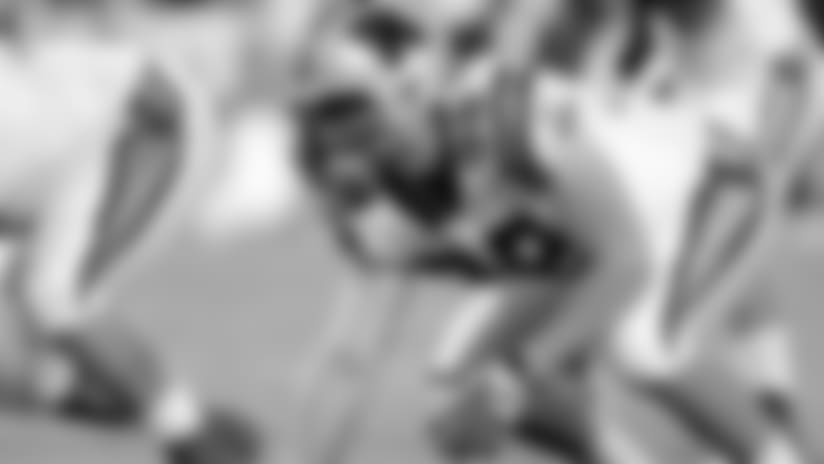 Keiser, a second-year pro from Stanford, had missed the Panthers' last three games after being injured versus Dallas in Week 7.
"He's just not been able to get over it," Beane said. "He tried it one day at practice last week, but it's not getting better enough for him to play."
Keiser played in four games this season, recording two tackles and 0.5 sacks. He collected four sacks in eight games as a rookie.