CHARLOTTE – The Panthers have signed four invited tryouts from last weekend's rookie minicamp. To make room for all four, Carolina waived cornerback Zack Sanchez, a fifth-round pick in 2016, with an injury designation.
Here's a closer look at each of the tryouts added to the roster:
The former Tar Heel was signed by the Colts as an undrafted free agent following the 2017 draft but was released prior to the start of regular season. He then spent time on the Browns' practice squad. Howard finished his college career with 146 catches for 2,048 yards and 18 touchdowns, eight of which he recorded as a senior.
"It's a great feeling to come out here and feel at home and be comfortable," Howard said following the last minicamp practice. "If you're somewhere across the country in California or Seattle, you're like, 'Where do I fit in?' Here you already have kind of a fan base that watched North Carolina football. So it feels good here."
A four-year starter at Temple, Friend spent some time on the Jets' practice squad as an undrafted rookie in 2016. There he learned from seven-time Pro Bowl center Nick Mangold before landing on Pittsburgh's practice squad behind six-time Pro Bowler Maurkice Pouncey last season. Friend now joins a room in Carolina that includes five-time Pro Bowler Ryan Kalil.
"Every other team I've been at I've been around Pro Bowl guys," Friend said, "and I've been able to pick something up from every one of them. So I'm sure I'll be able to learn something from him, too."
G Quinterrius Eatmon (6-6, 315)
The hulking lineman was listed as a guard for rookie minicamp, but head coach Ron Rivera referred to him as a tackle at the conclusion of the camp. Eatmon started games at right tackle and at both guard spots for South Florida but hasn't had many opportunities since his senior year there in 2014.
Eatmon was signed as an undrafted rookie by the Raiders in 2015 and played in two preseason games. Since then, his game experience consists of two games at tackle with the Hamilton Tiger-Cats of the Canadian Football League in 2017. The Alabama native won a state championship in high school, and South Carolina was among the schools to offer him a scholarship before he chose USF, where he started 46 games.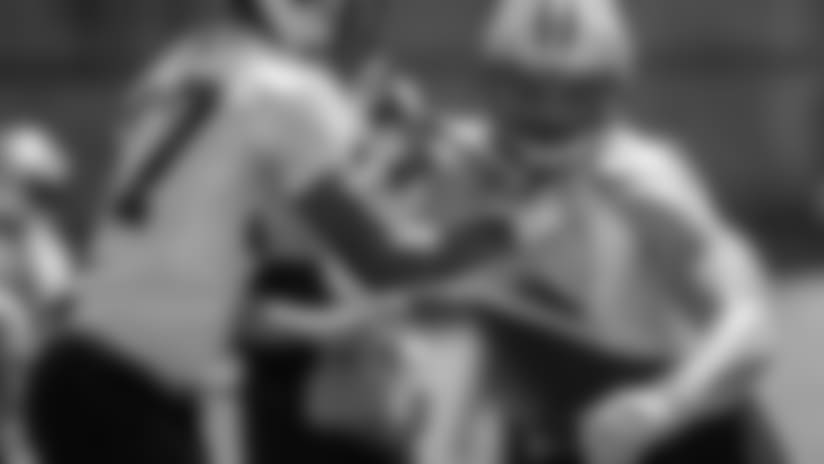 DE Karter Schult (6-3, 260)
After going undrafted in 2017, the Northern Iowa product was signed by the Browns and later cut before the start of the regular season. Schult, who won the Buck Buchanan Award as the top defender in the Football Championship Subdivision after leading the nation with 17 sacks in 2016, totaled 31 sacks in his final two collegiate seasons.
"I'm very surprised (to not be in the NFL)," Schult told The (Iowa) Gazette prior to the start of minicamp. "It's not always fair. Obviously I wish it would have went better but I wasn't ready to give up on it so that's why I'm in (this) situation now. I think being a year older, wiser, with more experience definitely works into my favor."