CHARLOTTE – The Panthers have signed running back Chris Ogbonnaya, and the NFL has reinstated defensive end Frank Alexander.
To make room for Ogbonnaya, a versatile back who touched the ball nearly 100 times for the Cleveland Browns last season, the Panthers waived running back Tauren Poole. The Panthers didn't have to make a roster move to add Alexander, who just finished serving a four-game suspension and won't count toward the 53-man limit for one week.
Ogbonnaya, a 6-foot, 225-pounder that the Browns listed as a fullback, rushed 49 times for 240 yards and caught 48 passes for 343 yards and two touchdowns last season.
A seventh-round draft choice in 2009 by the St. Louis Rams from the University of Texas, Ogbonnaya has played in 46 games for the Rams, Houston Texans and Browns, rushing for 660 yards and catching 96 passes for 714 yards. He had been with the Browns since early in the 2011 season before being released in the final roster cutdown this season.
Ogbonnaya should provide immediate help for a group devastated by injuries. At the end of Sunday's game at the Baltimore Ravens, the Panthers were down to Poole – signed to the practice squad Thursday and to the active roster Saturday - and undrafted rookie Darrin Reaves.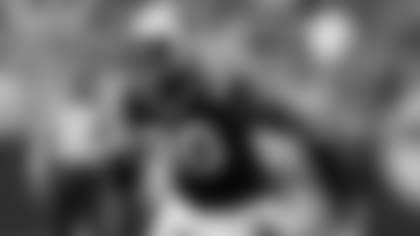 Alexander also should be able to help the cause at defensive end, but the Panthers will spend the week at practice accessing his situation. Selected by Carolina in the fourth round of the 2012 NFL Draft, Alexander struggled at times last season following a strong rookie campaign but was a standout at training camp this season.
Alexander, suspended by the NFL for violating its policy and program for substances of abuse, can be moved to the active roster at any point in the next seven days. If he is, the Panthers will have to clear a roster spot for him.
A 6-4, 270-pounder from Oklahoma, Alexander played all in 16 games as a rookie and ranked third on the team with 18 quarterback pressures in addition to posting 25 tackles, 2.5 sacks, two fumble recoveries and four passes defensed.
Last season, Alexander played in 12 games and posted 12 tackles, one sack, five quarterback pressures and two passes defensed. He started three games in both 2012 and 2013.