CHARLOTTE – As the Carolina Panthers made their march to Super Bowl 50, one of their biggest fans made a decision to try to play for his favorite team.
But while Eric Wallace had the look of an NFL player, he hadn't played the American version of football since high school, more than a decade earlier.
"Coming back, the decision was whether I'd play basketball again or continue along the football path and put pads on again," said Wallace, a former college basketball player who returned to his native North Carolina in November after playing Australian Rules Football for three years. "I hadn't played football since I was 14.
"But the window was still open, so I decided to go for it."
Wallace's decision to chase his dream, no matter how long delayed, paid off Monday when the Panthers signed the tight end to a three-year contract, the standard deal for a rookie who at the age of 27 is anything but your standard rookie.
To make room on the 90-man roster, the Panthers waived wide receiver Cobi Hamilton.
"I grew up a Carolina fan," Wallace said. "Today, the dream came true."
Three weeks ago, just months after putting on pads for the first time since high school, Wallace approached wide receiver coach Ricky Proehl at his training facility.
"I walked into his office and told him I wanted to play for the Carolina Panthers," Wallace said. "It was a short chuckle at first, and then he was like, 'Are you serious?' I was."
The 6-6, 260-pounder worked out for Proehl the next day, running the 40-yard dash in 4.6 seconds. Monday, two days before players report to training camp in Spartanburg, S.C., Wallace worked out for other Carolina coaches. Hours later, he signed.
"It's surreal," Wallace said. "I have size – you can't really teach size – and speed. I'm faster than I look. I'm a smooth athlete, pretty good with my hands."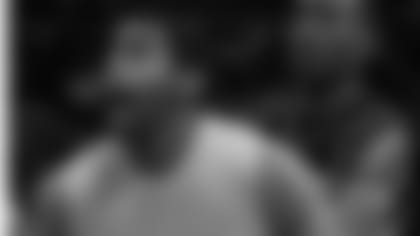 Wallace stopped playing football at Glenn High School in Kernersville, N.C., more than a dozen years ago to concentrate on basketball. It paid off in the form of playing time at three different colleges - Ohio State, DePaul and Seattle. In the summer of 2012, Wallace was looking into the possibility of playing pro basketball overseas when he was approached about participating in an Australian Rules Football combine.
"August came, I was like, 'It's a free trip to L.A. Why not?' " Wallace said. "Out of about 35 of us, three of us got invited to the real combine in Melbourne, Australia. Out of those three, North Melbourne signed me."
Wallace ended up playing three seasons in Australia as a ruckman,
"The big guy who enforces things, kind of like a basketball center," he explained. "It's a very physical sport, with no pads. It's fast-paced, nonstop like basketball. Guys are clearing half-marathon numbers during a game. It's also highly skilled. Everybody has to be able to kick, run, catch.
"It's a different physicality. The AFL is more free flow where you've got a man and you guard him. The NFL, it's more head-to-head, trying to stop a 270-pound man running at you."
Wallace decided to return to American football after getting advice from some former NFL players he knows, among them defensive end Simeon Rice. Wallace got his foot in the door by scoring an invitation to the New Orleans Saints' rookie minicamp, and now he's come full circle by returning to play football in his home state.
"I'm just here to learn, here to help," he said. "It's kind of like when I went to Australia. I had no idea what that game was, but I learned it from scratch. The good news is that I'm a blank slate, no bad habits."