CHARLOTTE – When Kyle Kragen first called Charlotte home, he was young but the Panthers were even younger.
Kragen had just turned 2 when the Panthers used their ninth pick in the 1995 NFL Expansion Draft on his father. Now Kragen has earned a chance to follow in his father's footsteps as one of three invited tryouts signed to the Panthers' 90-man roster following rookie minicamp.
Kragen, fellow linebacker Alex Bazzie and defensive tackle Gabriel Mass were signed Saturday from a group of 35 hopefuls who worked out with Carolina's rookie class Friday and Saturday at Bank of America Stadium.
"I made my best effort. That's all I can do," Kragen said after finishing up practice Saturday but before getting word that he'll again call Charlotte home. "I definitely wanted to play in the NFL growing up watching my dad. That's the number one thing I wanted to do.
"I only remember a little bit of him playing. I remember coming to the stadium. The stadium is so familiar – even the carpet. It's kind of eerie."
Kragen, Bazzie and Mass will now get more familiar with the stadium and its surroundings when they join the Panthers' ongoing offseason workout program.
Kragen and Bazzie were defensive linemen at Cal and Marshall respectively but are now learning the linebacker spot. While Kragen immediately began making the transition after his college career ended in 2015, Bazzie actually played defensive tackle in the Canadian Football League from 2014-16, racking up 29 sacks in three seasons before signing with the Colts this offseason as an outside linebacker.
Mass, at 6-4 and 295 pounds, was a defensive tackle at Division II Lane College and is still competing at that spot.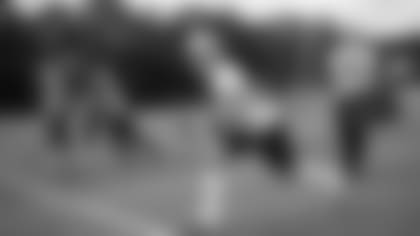 A generation ago, Greg Kragen went through a similar grind to find a home in the NFL, and he beat the odds to become not just a contributor but a decorated one. Undrafted out of Utah State in 1984, the elder Kragen got turned away after a tryout with the Broncos.
Denver, however, invited the stout defensive tackle to training camp the next year, and the rest is history. Kragen went on to play 13 seasons (he's one of 307 players in NFL history to play in 200 games), including a Pro Bowl campaign in 1989. His last three seasons coincided with the first three seasons for the Panthers.
"He's been real supportive, just giving me bits of advice when he can," said Kyle Kragen, who actually was on the Broncos' practice squad as a rookie when Carolina visited there Week 1 last season but who had been out of football since. "I went to Denver first, where he played nine years, so it's kind of been a reunion tour of his career. We laugh about it."
Trying to get his foot in the door has been no laughing matter, though. Kragen excelled along the defensive front at Cal – head coach Ron Rivera's alma mater – but the 6-3, 255-pounder was too slight for that position in the pros so he switched to linebacker. His extended opportunity in Denver allowed him to show his football acumen, but once the Broncos moved on from him, subsequent tryouts weren't enough for his to show his stuff.
"I'm not really a workout guy; I'm more of a football guy," Kragen said. "That's really been my biggest barrier to get back in."
But now Kragen, Mazzie and Mass all have an extended chance. Time will tell what they're able to do with it.