CHARLOTTE – The Panthers have signed unrestricted free agent wide receiver Jerricho Cotchery, a veteran of 10 NFL seasons coming off a 10-touchdown season with the Pittsburgh Steelers, to a two-year contract.
Cotchery played collegiately at North Carolina State.
"I'm excited about this new opportunity that I have to play for the Panthers and play in front of family and have an opportunity to get to the Super Bowl," Cotchery said. "That's what I play this game for, and they're building something special. I want to contribute to that."
A fourth-round draft pick by the New York Jets in 2004, Cotchery played his first seven seasons with the Jets before spending the last three with the Steelers. After totaling 20 touchdown receptions over his first nine pro seasons, Cotchery scored 10 times in 2013 on 46 catches for 602 yards.
"What I've always done is be the veteran presence in the room and help out on offense," Cotchery said. "We have a ton of weapons here with the running back position and a great tight end and obviously Cam (Newton) at quarterback.
"I just want to take advantage of the opportunities to make plays, help the team put points on the board and move the chains. I'm another piece in the puzzle, and I'm sure we're going to keep putting this thing together."
For his career, which included four 800-plus-yard seasons over his seven seasons with the Jets, Cotchery has 437 receptions for 5,558 yards. From 2006-09 with the Jets, Cotchery averaged 942.5 yards with an 1,130-yard season in 2007.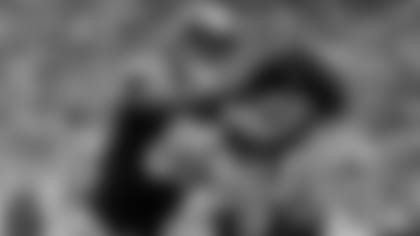 The 6-1, 200-pounder had a record-setting college career at N.C. State, where his four seasons coincided with San Diego Chargers quarterback Philip Rivers. Cotchery still holds the school record with 200 receptions and ranks second to Torry Holt in career receiving yards with 3,119 and touchdown receptions with 21.
Cotchery has worn No. 89 throughout his NFL career but said he doesn't plan to wear that number in Carolina – the number previously worn by Steve Smith. The only number on Cotchery's mind right now is No. 1 – the number worn by Newton and the goal he has for his new team.
"I left Ben Roethlisberger. If you're going to leave a quarterback like that, you better be sure that you're going to go to someone that can play at a high level," Cotchery said. "We have that here with Cam Newton. I've got 10 years in the league, so hopefully I can help him and we can grow the same bond that I've always had with quarterbacks. Hopefully we can make this thing go in a special way.
"Watching from afar last year, they had a great year. Guys played lights-out. They fell short in the playoffs, but hopefully I can come here and help this team take the next step and hoist that Lombardi."