CHARLOTTE - The Carolina Panthers and Time Warner Cable SportsChannel (TWC SportsChannel) are teaming up to bring an unprecedented level of programming to armchair quarterbacks throughout the Carolinas.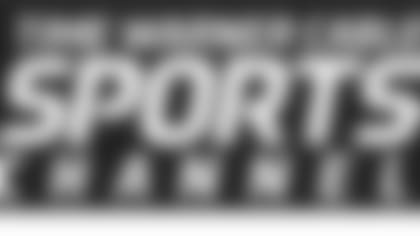 In one of the largest partnerships ever between an NFL franchise and a regional channel, TWC SportsChannel will be the exclusive local cable television home of the Panthers. Beginning July 23 at 6 p.m. with the debut episode of "Panthers Camp Confidential," the Panthers will produce more than 250 hours of programming annually for TWC SportsChannel as a part of a multi-year agreement.
"The Panthers have always enjoyed tremendous fan support throughout North and South Carolina, and our new programming venture with Time Warner Cable SportsChannel will make us that much more accessible to our millions of fans throughout the region," Panthers president Danny Morrison said.
In addition to live telecasts and re-airs of Panthers preseason games, the channel will air nightly programs dedicated to the team and live gameday, postgame and behind-the-scenes shows. Several shows will be created exclusively for TWC SportsChannel viewers.
One of the behind-the-scenes shows, "Panthers Camp Confidential," will take fans inside training camp with exclusive footage and interviews on Mondays and Wednesdays throughout camp. The channel's nightly Panthers programming kicks off August 4 at 8 p.m. with the first "Panther Talk" of the season.
"Carolina Panthers fans are incredibly passionate, and we're excited to give them more access to the team than they've ever had before through our Time Warner Cable SportsChannel programming," said Mark Shuken, senior vice president and general manager of TWC Sports Regional Networks. "New series like 'Panthers Camp Confidential' and our nightly shows will give fans Panther programming every day of the week."
Mondays will feature "Panther Talk," a live, hour-long simulcast of the Carolina Panthers Radio Network's weekly show along with additional episodes exclusively for TWC SportsChannel.
Tuesdays will feature "Panthers Roundtable," where journalists debate topics involving the team, and Wednesdays will feature "Panthers Game Plan," an update show complete with press conference highlights. Former Panthers tackle Jordan Gross will share his unique perspective on "This Is Gross" on Thursdays, while play-by-play announcer Mick Mixon will set the stage for the upcoming game each Friday on "Inside Panthers Football."
Other highlights of the Panthers/TWC SportsChannel partnership include:
• Live television simulcasts of the Panthers' postgame radio show after every game.
• Expanded editions of "Panthers Game Day," the team's Sunday night highlight show, with a second half hour available exclusively on TWC SportsChannel.
• Live, hosted coach and player press conferences every week of the season.  
• Exclusive specials, including a celebration of the Panthers' 20th season, extensive NFL Draft coverage and specials on rookie camp, minicamp, free agency and TopCats cheerleading tryouts.
In the Carolinas, TWC SportsChannel can be found in HD on channel 323 exclusively to Time Warner Cable customers. For more information, visit www.twcsportschannel.com.  
Lee H. Berke, president and CEO of LHB Sports, Entertainment & Media, Inc., assisted in the agreement between the Panthers and TWC SportsChannel.