After selecting in the top half of the NFL Draft the last three years, the Panthers will pick in the bottom half this year as a result of advancing to the divisional playoffs. Carolina will have the 28th overall choice in the 2014 NFL Draft on May 8.
The Panthers (12-4), New Orleans Saints (11-5), Indianapolis Colts (11-5) and San Diego Chargers (9-7) all lost in the divisional round of the playoffs, and their draft positions - 25th through 28th - were determined according to the reverse order of their final regular season records.
If Carolina retains the 28th overall choice, it will equal the latest the team has ever selected in the first round. The Panthers also picked 28th in 2004, although they originally held the 31st overall choice but traded up three spots to take cornerback Chris Gamble - the franchise's all-time leader with 27 interceptions.
Carolina currently has seven selections in the seven-round draft, holding choices in the first, second, third, fourth, fifth and sixth rounds plus a seventh-round pick acquired from the New York Giants last October in exchange for linebacker Jon Beason. The Panthers traded their own seventh-rounder to San Francisco for safety Colin Jones prior to the start of the 2012 season.
It is possible that the Panthers could receive additional picks when the league awards compensatory choices, typically in March.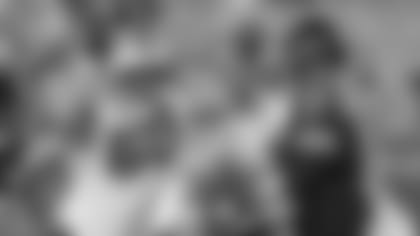 FUTURE SIGNINGS: Carolina has signed eight more players to "future" contracts for the 2014 season.
All eight of the players - wide receiver Brenton Bersin, quarterback Matt Blanchard, linebacker Ben Jacobs, guard Michael Jasper, tight end D.C. Jefferson, tackle Andrew McDonald, cornerback De'Andre Presley and defensive end Craig Roh - ended the 2013 season on the team's practice squad.
The contracts are referred to as "future" contracts because even though the players have signed, they do not officially become members of the roster until the beginning of the new league year - March 11.
Future contracts essentially allow teams to sign players for the upcoming season even though the new season has not begun yet. Only players who are not on an NFL team's 53-man active roster at the conclusion of the regular season are eligible for these contracts.