Whenever Luke Kuechly and football fans share the same space, chants of "Luuuuke!" are pretty much guaranteed to rain down. The linebacker is a playmaker worthy of such praise, but he also makes a difference in ways fans often aren't in a position to notice.
Everyone noticed when Kuechly played a part in the most notable play of the most heated practice of training camp Sunday afternoon, using his off-the-chart instincts to get in position to tip a Derek Anderson pass intended for Devin Funchess that set up safety Mike Adams for a diving interception.
Many fans noticed when Kuechly later did something relatively rare at camp so far, stuffing a run play featuring rookie phenom Christian McCaffrey. But much more subtly, Kuechly was the first to congratulate cornerback Captain Munnerlyn following an interception by fellow corner James Bradberry. Why? Because Kuechly recognized how a Munnerlyn maneuver fooled Anderson into thinking the defense was in man-to-man and made the entire play possible. And why else? Because Kuechly the football fanatic lives for such moments nearly as much as fans savor a chance to chant his name.
Quarterback Cam Newton threw forward passes of a noteworthy length for the first time in a week Sunday, tossing a few to head athletic trainer Ryan Vermillion.
"Get it going again, and then just evaluate it every day, see how he is," head coach Ron Rivera said. "Apparently he felt good afterwards, so we'll see tomorrow."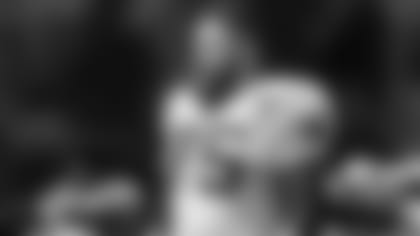 Newton's new blindside protector took a step forward as well, with left tackle Matt Kalil (groin) returning to a full practice.
"It's very important. It's important to get everybody out there so we can watch our projected starters work together," said Rivera, who said not to discount the value of Newton continuing to take snaps on run plays as the Panthers work toward perfecting their timing with game time around the corner.
Defensive tackle Kawann Short (hamstring, back) returned to action, as did linebacker Jared Norris, cornerback Zack Sanchez and tight end Scott Simonson. Safety Dean Marlowe (undisclosed) joined those who remain out, among them rookies Curtis Samuel, Corn Elder and Fred Ross.
Additional practice notes
Rivera said he considers McCaffrey to be ahead of the learning curve, no small feat given he only participated in the final offseason practice because of NFL restrictions related to the college calendar. For the first time since that practice, the Panthers worked on lining McCaffrey up in the "WildCaff" formation, with him taking at least five direct snaps.
The defense set the tone for a super-spirited practice with a couple of takeaways. The Adams and Bradberry interceptions occurred early on, and in between linebacker Shaq Thompson deftly stripped tight end Ed Dickson and dove on the loose ball after a scramble. A couple of linebackers battling for reserve roles made their presence felt – maybe a bit too much. East Carolina product Zeek Bigger impressed in a pass rush drill against rookie fullback Alex Armah but later took down tight end Chris Manhertz a little too rough during a 7-on-7 drills. Duke product Jeremy Cash raised the ire of the coaches when he took McCaffrey down with too much force and was temporarily removed from the lineup.
A physical practice always calls for a physical fullback, and veteran Darrel Young fits the bill. The fullbacks have been most silent in team periods throughout camp but not Sunday, when Young rumbled with a couple of swing passes – one resulting in a touchdown – and got a couple of carries.
"It's good to see Darrel making plays," Rivera said. "With Michael Tolbert moving on, we've got to find that guy that can be a fullback and H-back for us with certain things we do on offense."
Other notable catches included another pair for Brenton Bersin along the sideline, including a 5-yard score from Joe Webb. Kelvin Benjamin made a beautiful leaping TD catch on an Anderson lob, and Funchess made a tough catch close to the turf inside the 5 on a ball rifled by Anderson. Hard to say two times fast, but Garrett Gilbert and Keyarris Garrett had a couple of nice connections.
View photos from Carolina's tenth practice at training camp.