Fans sat in the Gibbs Stadium stands for the second consecutive day Saturday and got a chance to let out the kind of cheer usually reserved for Sundays when wide receiver Devin Funchess made "one of those" plays. During a team drill, quarterback Derek Anderson saw that Funchess had a step on cornerback James Bradberry down the right sideline. From near midfield, Anderson launched it deep – almost too deep. Funchess lunged forward and the ball bounded off his right hand, then he tipped it with his right hand again before getting his left hand involved to reel it in for a touchdown.
"Funch is doing a nice job. You can see his growth, see his development," head coach Ron Rivera said. "It's exciting to see him moving around and doing the things he's doing."
One day after throwing to receivers during individual drills for the first time in nearly two weeks, quarterback Cam Newton didn't throw Saturday.
"Today was a day off," Rivera said. "He'll throw again tomorrow during practice, and we'll see how he is. If he practices, he'll have Monday off and then we'll see how he's feeling Tuesday."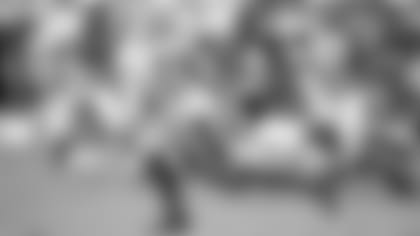 Additional practice notes
Before Bradberry had a front-row view of Funchess' highlight-reel catch, Bradberry was frontrunner for play of the day - at Funchess' expense. On a snap close to the goal line, Bradberry read the situation perfectly, cut in front of Funchess and came away with a clean interception of Anderson's pass on what easily could have been a pick-six.
Nothing new here, but rookie running back Christian McCaffrey had an active day. The defense held its ground against him during a quite physical team period focused on the run game, but McCaffrey later impressed with a one-hand grab out of the backfield and then lined up at receiver and ran a crisp route against Bradberry that netted a reception. Later in practice, he was part of an impressive run by the offense on a series of plays inside the 10-yard line, scoring on a shovel pass from Joe Webb. Webb also hit receivers Kaelin Clay (between three closing defenders) and Mose Frazier for scores; running back Fozzy Whittaker ran one in; and tight end Bryce Williams caught one from Garrett Gilbert.
One more Bradberry mention. During an individual drill against wide receivers near the goal line, he faced the unenviable task of lining up across from red zone beast Kelvin Benjamin. Days after Benjamin scored from much farther out in the preseason opener on a pretty indefensible fade route, Benjamin instead cut inside against Bradberry and made the grab. Before defensive backs coach Curtis Fuller could even make it over, Bradberry said, "I thought he was going for the fade." Understandable.
Second-year linebacker Jeremy Cash has followed up his solid showing in the preseason opener with a couple of productive practices. Saturday, it looked like he would have had a sack of Webb, but as is typical the play continued and the defense still got the last laugh when cornerback Teddy Williams intercepted a deep ball for Austin Duke. In one-on-one blocking drills, Cash also got the better of running back Cameron Artis-Payne, who has done a really good job in such situations throughout camp.
Tight ends coach Pete Hoener was vocal throughout the drill, demanding nothing but the best when his players were put on the spot. Chris Manhertz kept linebacker Jared Norris at bay, but still Hoener got on him for not doing even more. Hoener also didn't hide his feelings when tight end Eric Wallace struggled against linebacker Ben Boulware. The sun came out in full force as Hoener departed the drill. "Bring on the heat!" he bellowed.
A lot of star power during two-on-two blocking drills, when Julius Peppers lined up at defensive end and Charles Johnson lined up beside him at defensive tackle – the team's two all-time sack leaders teaming up. Right tackle Daryl Williams and right guard Trai Turner stood up to the test against Johnson as well as Peppers, who practiced Friday for the first time in a week.
When the ball is in the air, there's usually something worth noting. Receiver Trevor Graham showed a different dimension than his speed with a couple of good adjustments on the ball on back-to-back plays. Receiver Russell Shepard made an impressive catch full speed in the back corner of the end zone with Captain Munnerlyn draped all over him. Munnerlyn later broke up a pass for Shepard over the middle and then chunked the ball 20 yards low to the ground.
Owner/Founder and former Wofford great Jerry Richardson made his first practice appearance at his alma mater. The first player to greet Richardson on his golf cart was tight end Greg Olsen, who capped practice with a touchdown in traffic in the back in the back of the end zone on a bullet from Anderson.
View photos of Carolina's fourteenth practice at training camp.