Running back Cameron Artis-Payne has been the forgotten man, but he had a productive practice Friday – highlighted by a long outside run. Artis-Payne broke loose and gained the edge, then turned upfield for a big gain down the sideline. The defensive sideline wasn't at all pleased with how much green grass Artis-Payne had in front of him.
Also have to point out Russell Shepard's effort to come down with a contest catch against Jeremy Cash. Take a closer look at the play in our "Photo of the Day."
Linebacker Shaq Thompson was a thorn in the offense's side throughout practice. He recorded multiple pass breakups, multiple tackles for loss and punched the ball out of wide receiver Devin Funchess' grasp when most assumed the play was over.
No major standout on the offensive side of the ball today, though the offensive line won its fair share of battles to create openings in the run game and screen game.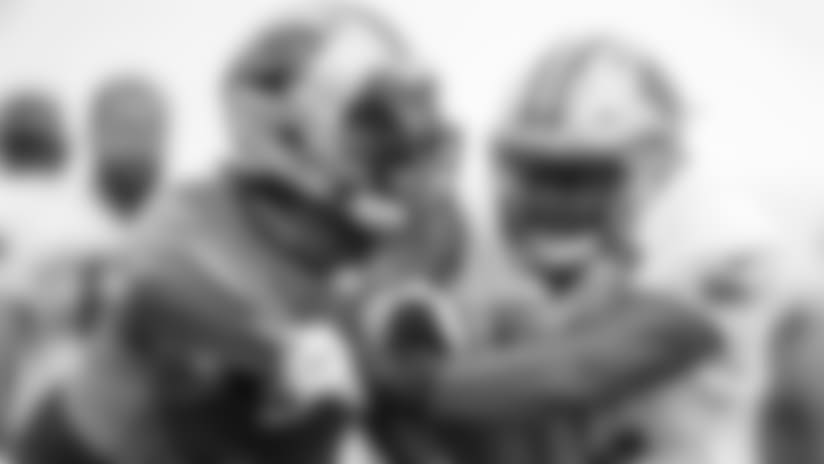 Rookie right tackle Taylor Moton's first career 1-on-1 rep in pads came against none other than Peppers. To his credit, Moton held his own. Later in the drill, Peppers exacted some revenge and put the rookie on the ground.
The pads really started popping during a 9-on-9 run game session, and coaches on both sides of the ball were fired up. Defensive line coach Eric Washington was ecstatic after Hall exploded off the ball and finished the play. He rewarded the rookie with an enthusiastic chest bump.
McCaffrey was on the receiving end on a number of dump-off passes. He continues to make something out of nothing with his elusiveness. "It's been exciting to watch him," Rivera said. "When guys come up to you and make comments about a guy's ability, that's fun. … Guys come up and tell you, 'This guy can be special, Coach.'"
Wide receiver Fred Ross was left all alone for a long touchdown from quarterback Joe Webb down the sideline.
Scary moment when McCray and wide receiver Damiere Byrd collided in the air going for the ball. McCray got the worst of it, but he was OK after a few minutes on the sideline.
Wide receiver Keyarris Garrett was targeted numerous times, and he made a few nice contested catches.
Defensive tackle Vernon Butler tipped a pass at the line of scrimmage, leading to an easy interception for defensive back Colin Jones.
View photos from the first padded practice of training camp.